Radi Masri, DDS, MS, PhD, professor in the Department of Advanced Oral Sciences and Therapeutics at the University of Maryland School of Dentistry and the Department of Anatomy and Neurobiology at the University of Maryland School of Medicine, is a recipient of a Wilson H. Elkins Endowed Professorship. Awarded by the University System of Maryland, the professorship supports compelling research, scholarship, or community engagement projects aimed at improving quality of life.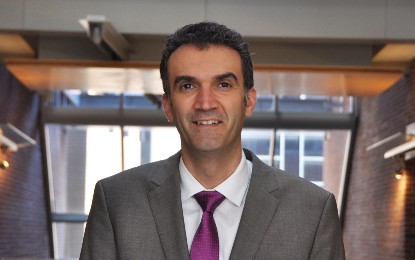 In addition to teaching dental students and treating patients, Masri directs a federally funded research laboratory focused on developing new treatments for chronic pain. A prosthodontist — specializing in implant dentistry and complex oral rehabilitation — Masri focuses his innovations on making oral health treatments easier to access, afford, and use. He holds several patents — the most recent for a novel use of magnetic nanoparticles that reduces the need for painful and costly root canals.
As an Elkins Professor, Masri is launching a study aimed at understanding why patients, particularly members of underrepresented populations, frequently reject treatment with dental implants. Here, he discusses his latest investigation.
Typically, your research is done in the lab. What inspired you to launch this epidemiological investigation?
It's true, most of my research is in the lab, but in the clinic, I see a lot of patients. And I often find most patients don't know what dental implants are, and they are very quick to say "no" to the treatment even though it would offer a major benefit to their oral health. Implants are a wonderfully effective treatment, and we'd like to understand the barriers that prevent patients, particularly from underserved populations, from seeking dental implants as a treatment to replace missing teeth.
There are great disparities in the kinds of oral health care received by Americans. For example, one Centers for Disease Control and Prevention report shows that one in four adults has untreated dental disease. It also shows that 42 percent of African American adults and 36 percent of Hispanic adults have untreated disease, compared to 22 percent of Caucasians.
Could you describe what your investigation will be?
We want to learn what the barriers are to getting advanced oral health treatments, particularly implants, and try to remove them through education. Obviously, there could be many reasons for refusing treatment such as cost or concern about pain. Once we identify these barriers, we think education will show patients that implants greatly enhance lifespan and overall health, and, in the long run, offer great cost benefits.
What are the benefits of implant treatments?
Successful implants offer patients the long-lasting, stable replacement of missing teeth, and that has a big impact on overall health and quality of life — the ability to eat and get nutrition, interview to get a job, and feel comfortable socializing.
How will you connect with underrepresented patients?
The project has an outreach arm. We will go out into the community where underrepresented populations may be, such as nursing homes, and try to educate people about implants, the dental school, and the process and benefits of receiving implants.
I've recruited two dental students who will be helping to gather the data and participate in community engagement. So that is another educational aspect to his project, as well.
This interview first appeared in the Winter 2021 issue of Mdental magazine.
To learn more about Dr. Masri's research, watch the video below: