Strengthening connections, whether building the new or enhancing the established, is a priority for Isabel Rambob, DDS, clinical assistant professor in the University of Maryland School of Dentistry's Department of Neural and Pain Sciences, as she steps into the role of president of the American Association of Women Dentists (AAWD).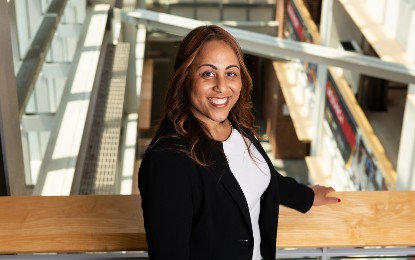 "I plan to continue the legacy of the leaders before me by working to increase the number of new members while establishing new ways of coming together with all our members to learn more about their needs," said Rambob, whose two-year tenure began in early 2023.
Rambob has served as a member of the University of Maryland, Baltimore's (UMB) President's Council for Women and a member of the UMB Roundtable on Empowerment in Leadership and Leveraging Aspirations (UMBrella), which supports the success of women and those who identify as women.
In 2021, she was an inaugural recipient of the UMBrella Person of the Year – Leading the Way Award in recognition of her leadership as a role model, coach, and mentor.
In keeping with that commitment to assisting other women in reaching their professional goals, Rambob lists mentoring rising members of the oral health care professions as a priority. "One thing I have noticed particularly among young women is the lack of confidence. There is a real need for mentorship to support our students and young professionals."
Noting that AAWD members work in a variety of professional settings from military, public service, and academic to corporate or private practice, she added, "our mission is to advance, connect and enrich the lives of women dentists, and so we need to listen and target their specific needs."
Rambob also aims to emphasize the need for self-care for all health care providers and educators. "No matter your role, as health care providers, we are so focused on providing care to patients or supporting our students that sometimes we neglect ourselves. I would really like to focus on self-care and work/life balance for women."