Tao Lowe, PhD, the inaugural recipient of the University of Maryland School of Dentistry's (UMSOD) Frederick G. Smith, MS, DDS, and Venice K. Paterakis, DDS, Endowed Professorship in Oral and Maxillofacial Surgery, was honored February 2 at a virtual investiture ceremony.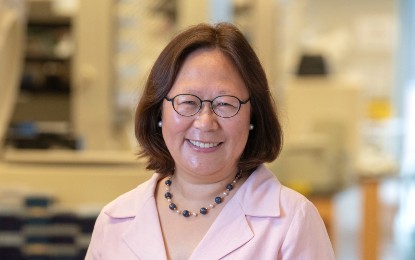 Attended by Lowe's colleagues, friends, family, and supporters, the event, which had been postponed for months because of the pandemic, also was an official recognition of the establishment of UMSOD's first endowed professorship.
Created by philanthropists and UMSOD alumni Frederick G. Smith, MS, DDS '78, and Venice K. Paterakis, DDS '81, the inaugural professorship marks a path toward greater research collaborations, larger and more rapid advancements in diagnoses and treatments, and transfers of novel discoveries into practical applications.
Smith, who is vice president and director of the Baltimore-based Sinclair Broadcast Group and serves on the board of trustees of the University of Maryland Baltimore Foundation, Inc., practiced oral and maxillofacial surgery in Baltimore County for more than a decade before joining his family's media business. Paterakis practiced dentistry in the Fells Point/Harbor East area of Baltimore for 33 years. (Read more about Smith and Paterakis here.)
The endowed professorship is designed to provide resources to fund the work of an outstanding research scientist in the field of tissue engineering and the advancement of novel therapies for head, neck, and oral cancers, and support pioneering translational research and collaborations throughout the University.
"I'm proud to be able to play a role in enhancing the quality of the education that will be provided to future students," Smith said. "The goal is to attract someone who can be creative enough to establish a revenue stream for the School of Dentistry, primarily through research and discovery, and that those advancements would also help improve the oral and overall health of the general public."
Calling the investiture an important opportunity to recognize and celebrate Lowe and her achievements, Mark A. Reynolds, DDS, PhD, UMSOD dean and professor, said, "It is truly a great pleasure and source of pride for me to present one of our school's highest honors to you, Dr. Lowe."
He continued: "We also wish to recognize Drs. Smith and Paterakis, who through their vision, leadership, and generosity have established the first endowed professorship at the University of Maryland School of Dentistry!
"In doing so, they have marked a path to one of the most enduring contributions that can be offered to an academic institution — to endow a professorship is to create a truly lasting legacy of excellence and impact."
Lowe is a professor in UMSOD's Department of Oral and Maxillofacial Surgery (OMFS) with a joint appointment in the Fischell Department of Bioengineering at the University of Maryland, College Park (UMCP). She is developing, among other things, delivery platforms able to cross biological barriers and offer the controlled release of drugs with the potential to aid patients with diseases such as oral cancer and diabetic retinopathy. She additionally focuses her research on regenerative medicine and tissue engineering.
The author of more than 250 scholarly articles and presentations, Lowe holds eight U.S. and international patents. She has garnered more than $14 million in research funding from the National Institutes of Health and other public and private agencies and foundations. She also has served in leadership roles in professional societies including the American Association of Pharmaceutical Scientists (AAPS), American Institute of Chemical Engineers, Society for Biomaterials, Controlled Release Society, and Association for Research in Vision and Ophthalmology. Lowe has received numerous honors including as a recipient of an Early Career Award in Translational Research from the Coulter Foundation, member of the University of Maryland ADVANCE Leadership Fellows Program, and fellow of the AAPS.
Noting that in a relatively short amount of time, Lowe has assembled a research lab of more than 40 scientists, residents, and doctoral, graduate, and undergraduate students, Robert A. Ord, DDS, MD, FRCS, FACS, MS, chair of OMFS, said that she also already has spearheaded translational research in the arena of bone regeneration especially in the clinical field of implantology. (Read more about Lowe's research here.)
"This unique endowed chair has provided OMFS with a renowned basic research scientist within a clinical department for the purpose of collaborative research between surgeons and basic science researchers – aimed at finding new and innovative solutions that will benefit patients," Ord said.
Speakers at the ceremony also included John P. Fisher, PhD, Fischell Family Distinguished Professor and chair of the Fischell Department of Bioengineering at UMCP; and Curt I. Civin, MD, Philip Zaffere Distinguished Professor in Regenerative Medicine; associate dean for Research; and director, Center for Stem Cell Biology & Regenerative Medicine, at the University of Maryland School of Medicine.
"I congratulate Dr. Lowe and her lab mates who have obviously been taught Tao's 'can do' scientific spirit," said Civin, who is collaborating with Lowe on two projects.
"And I want to congratulate my friend and colleague, Tao Lowe, on this, the highest honor that a school can award to recognize extraordinary scholarly accomplishments and contributions."
During the virtual ceremony, Lowe described her journey from being a young college student in China to becoming a renowned researcher. She expressed her gratitude to her family, many mentors, supporters, collaborators, and members of her lab.
She also offered warm thanks to Smith and Paterakis. "Because of their gift, I am very pleased that our Oral and Maxillofacial Surgery Department has established a world-class, cutting-edge Biomaterials for Translational Research Laboratory equipped with state-of-the-art instruments," she said.
"With honor and privilege come responsibility – and I am sincerely committed to contributing to and leading interdisciplinary research aimed at providing innovative solutions, translational discoveries, and technologies that will enhance patient care and economic development in Maryland and beyond."
As the recipient of an endowed professorship, Lowe received a special medal in recognition of her accomplishments. Its front features an etching of the School of Dentistry building and images of Horace H. Hayden and Chapin A. Harris, who in 1840 founded the school — the first dental college in the world. Its back lists the name of the endowed professorship as well as a description of the school's purpose: Advancing Oral Health. Improving Lives.
Noting that endowed professorships greatly enhance the education of the school's dental and dental hygiene students as well as sustain scholarship, support discovery, and help improve patient care in a chosen area of expertise, Reynolds expressed his appreciation to Drs. Smith and Paterakis. 
"I would like to again recognize Drs. Smith and Paterakis, whose generosity established the school's first endowed professorship: the Frederick G. Smith, MS, DDS, and Venice K. Paterakis, DDS, Endowed Professorship in Oral and Maxillofacial Surgery," he said.
"Your vision for and gift to the school will support advances and translational innovations in patient care through the work of Dr. Lowe and those who follow in her footsteps."
To view the virtual investiture ceremony, please visit www.dental.umaryland.edu/TaoLoweInvestiture.