As an educator, Carl Driscoll, DMD, professor and former director of the Prosthodontic Residency program at the University of Maryland School of Dentistry (UMSOD), adheres to a simple philosophy: no settling.

"All residencies are governed by CODA standards, but those are the minimums," he says, "and we don't want to settle for the minimums. When the residents reach the bar, we raise it, and when they reach it again, we raise it higher."

Driscoll, who retired from his position as program director last year, earned the 2018 Educator of the Year Award from the American College of Prosthodontists (ACP). The award was presented during the ACP annual conference Oct. 31 – Nov. 3 in Baltimore.

UMSOD prosthodontic residents have accumulated numerous accolades during Driscoll's 21 years serving as program director. In particular, during the past 10 years, four residents have finished first place in the Tylman Research Award Program, an annual honor given for outstanding postdoctoral research by the American Academy of Fixed Prosthodontics (AAFP). No other residency program has produced more than one winner during this time period.

In addition, the number of residents earning Board Certification increased significantly during Driscoll's tenure, and the program now has one of the highest certification rates in the country, two-thirds of the graduates since 1997 becoming Diplomates.
Driscoll credits the emphasis on having each resident earn a Master's degree, as well as the quality of faculty instructors, for producing graduates who are successful both academically and in private practice.

"Our faculty, in particular Radi Masri, (DDS, MS, PhD, associate professor and Driscoll's successor as program director) with his background in biomedical sciences, has been immense in developing the research skills of our residents," he says.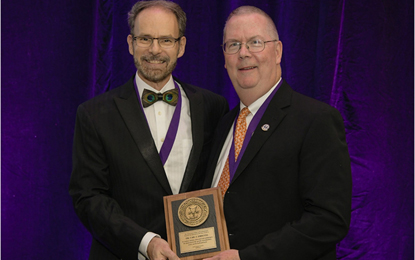 Before joining UMSOD, Driscoll served in the U.S. Army for more than 20 years and as program director of the prosthodontic residency at the Walter Reed Army Medical Center before retiring as a Colonel in 1997.

Driscoll served as president of ACP in 2016, American Board of Prosthodontics in 2012, and the American Academy of Fixed Prosthodontics in 2013. He has given more than 400 invited lectures nationally and internationally, written more than 75 publications, and is a Fellow of the ACP and a Diplomate of the American Board of Prosthodontics. He continues to teach at UMSOD in a part-time role and is in private practice in Bethesda, MD.
"Dr. Driscoll has influenced the life of many prosthodontists both professionally and personally, and I am no exception," says Masri, "he has the uncanny ability to motivate individuals and get the most out of his students. It's not a coincidence that he is extremely successful and widely respected as an educator and mentor.