Alumna Karen J. Ivers, DDS '88, has recently pledged $1.5 million to the University of Maryland School of Dentistry (UMSOD) to endow a professorship supporting academic excellence and discovery-driven research, the fourth endowed professorship at the school since 2015.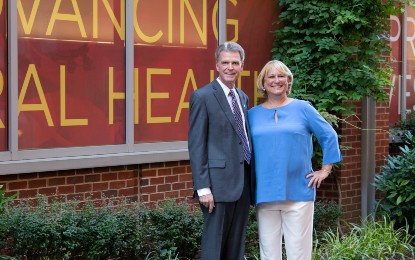 "Research is key to any school's legacy," says Ivers. "When you attract prominent researchers, the entire school thrives – from the labs to the clinics to the classrooms."
Mark A. Reynolds, DDS '86, PhD, dean of UMSOD, concurs.
"Endowed professorships empower universities to recruit, retain, and recognize outstanding faculty members as well as support in perpetuity their work as educators, scholars, researchers, and clinicians," he says. "Dr. Ivers' gift helps foster enduring academic excellence."
Ivers' journey through dentistry demonstrates her own commitment to the profession, in its many forms, and to academic dentistry.
She first started at art school at Alfred University in upstate New York, intending to be a potter, before realizing her real passion lies elsewhere. Ivers developed an interest in dental hygiene, which led her to leave art school and work for an orthodontist in Trenton, N.J. before entering dental hygiene school at Temple University in 1974.
It's a natural progression from the art world to dentistry, Ivers notes.
"They really aren't all that different from one another," she says. "I've always loved the artistry of dentistry – how you can change someone's whole look and life."
While working as a dental hygienist, Ivers went to night school at University of Maryland University College to finish her bachelor's degree, then took additional prerequisites in order to apply to dental school. Entering UMSOD at age 30, she embraced her role as a nontraditional student – which included working as a dental hygienist on the weekends.
"It was great that Maryland took older students, who add so much diversity and experience to the profession," Ivers says.
She also notes the important and essential demographic changes that have occurred in dentistry since her years in school, especially when it comes to the representation of women.
"The influx of women in the profession has been very impactful," Ivers says, "which enables dentistry to be of greater service to diverse communities."
The same holds true for philanthropy. Ivers joins fellow alumna Venice K. Paterakis, DDS '81 – whose generosity led to the creation of UMSOD's first endowed professorship – as female benefactors who have not only made significant philanthropic gifts to the school, but have also provided service to our mission.
After all, this latest gift is just a continuation of Ivers' dedication to her alma mater. As a dentist in private practice in Chevy Chase, Md., Ivers served as a Dean's Faculty member at UMSOD, making the long drive from Montgomery County to West Baltimore in order to instruct and counsel dental students.
Things have come full circle for Ivers, now retired in Naples, Fla. She's recently taken up pottery again, and the time she now spends molding clay leads her to reflect on her decision to pursue dentistry.
"I know I chose the right career," she says. "I had an amazing run, and the School of Dentistry has a special place in my heart."
"I feel very fortunate to be able to make an investment in UMSOD and position the school for future success," she adds.