The University of Maryland School of Dentistry's (UMSOD) Student National Dental Association (SNDA) received top national awards in June in recognition of its fundraising, community service work, and outreach aimed at encouraging students from underrepresented communities in Baltimore to pursue careers in oral health.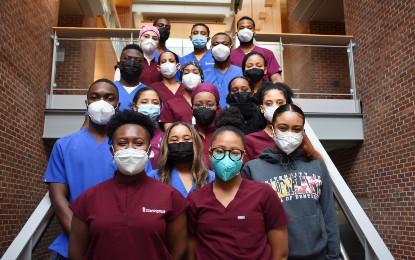 The student group received SNDA's 2022 Chapter of the Year Award in the category of large chapters for its outstanding outreach programs and events throughout the year. This is the ninth consecutive year that UMSOD's chapter has won first or second in the national competition. 
UMSOD's chapter also won SNDA's Video Scrapbook Competition, first place prize, an honor that recognizes the best student-produced video depicting a chapter's events and memories from the academic year.  
Referring to the chapter's impressive legacy, Courtney Kane, a fourth-year dental student who served as president in 2021-22, noted that that she was "definitely aware that I had quite big shoes to fill this year."
To forge bonds and maintain motivation within the group, Kane tried to "access our historical trends, have discussions with the former executive board members, and do my best to maintain a family-like dynamic within our organization, including monthly icebreakers during our executive board meetings."
The Chapter of the Year competition is based upon each chapter's success in fundraising, performing community service, and launching new initiatives. Additionally, the chapters are assessed on how they execute national programs including Impressions Day, during which pre-dental undergraduate students visit dental schools; a holiday canned food or toy drive; and several student panels throughout the year.  
"I am very proud of our chapter's continued record of achievement," said Mark A. Reynolds, DDS '86, PhD, UMSOD dean and professor.   
"Each year, this remarkable group finds new and innovative ways to meaningfully impact our communities and advance our profession. Whether through direct community service, mentorship of youth in the Baltimore area, or extending vital support of one another's success, this chapter is a source of great pride for the school and university communities."
Noting that the SNDA's programs enhance larger-scale efforts aimed at developing culturally competent clinicians and researchers who are prepared to serve diverse communities, Reynolds added, "individually and collectively, our SNDA members soar, inspiring an interest in the health sciences among younger students and actively encouraging their pursuits of careers in oral health."
At this year's Impressions Day, which was held April 23, 2022, college students from around the country toured UMSOD virtually, took part in a student question-and-answer panel, participated in mock admissions interviews, and discussions about how to be a successful dental school applicant.
"I am very proud of these students. Every year I am blown away by the things they accomplish. They continued to support the local Baltimore community while extending the legacy of SNDA by offering unique predental experiences and re-imagining how events can be held — despite the ongoing uncertainties caused by COVID," said Andrea Morgan, DDS, MS, clinical assistant professor and director of student advocacy and cultural affairs. "But I am most impressed by how, in addition to helping the community, they take care of each other."
UMSOD's SNDA chapter held or participated in as many as nine initiatives or programs each month throughout the academic year. These ranged from bonding events, continuing education courses, leadership workshops, manual blood pressure training, monthly tutoring or mentoring sessions, monthly food deliveries to Manna House to support those in need, and trash pick-up events held along Masonville Cove in South Baltimore.
Noting that helping new students feel at home was particularly important during a pandemic, Kane added that a then first-year student, Taylor Bordes, served as a liaison between her peers and the executive board.
"Our social chairs and I implemented a happy hour where we met with D1 students one Friday evening and shared great food, laughter, and experiences," Kane said. Then first-year student Imani Armour mentioned that her classmates could use additional materials to practice with in the evenings, so "I made individual baggies filled with burs, sanding strips, etc., for their practice sessions."
Other events included "Wax N' Relax" and "Drill N' Fill" sessions held a few evenings a month during which more senior students provided one-on-one guidance to first-year students before their practical competency exams.
UMSOD's SNDA members also participated in one of the chapter's signature programs, Generation NeXT, through which dental students provide virtual monthly mentorship to high school students at Vivien Thomas Medical Arts Academy, including a virtual Day-in-the-Life tour. Through the mentoring program, which was launched in 2017, dental students work to inspire younger students to pursue DDS or dental hygiene degrees.
Chapter members also took pride in mentoring pre-dental students at Morgan State University, a local Historically Black College and University. "The UMSOD x MSU Mentoring Program was piloted in 2020 and aims to help to increase diversity within the dental profession," Kane said. SNDA students provide workshops on crafting personal statements, preparing for interviews, dental terminology, and a step-by-step guide to a successful acceptance into dental school.
Expressing appreciation for the help and advice given to her by Ashley Reid, DDS '22, who preceded her as SNDA president, and Dominique Marshall, who served as the SNDA's 2021-22 vice president, Kane added: "I knew that with prayer, previous experience, guidance from our advisor, Dr. Andrea Morgan, and with each other, we had the necessary tools to have a successful year, no matter if we received an award or not at the end. Our family-like bond this year was powerful! I truly appreciate the hard work of each committee and committed member of our organization."