For dental hygiene student Tymarin Ward, it was only natural that he volunteered at the 2022 Special Olympics Maryland Summer Games.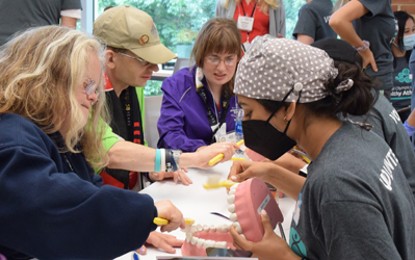 "My older brother has autism," says Ward, who is a second-year student in the dual-degree Clinical Dental Hygiene Leader program at the University of Maryland School of Dentistry (UMSOD). "This is something I've wanted to do for a while."
From June 17-19, the Special Olympics Maryland Summer Games returned to the campus of Towson University after a two-year hiatus with over 4,000 athletes eager to compete in bocce, softball, swimming, cheer, and track and field.
Ward, along with 47 other dental and dental hygiene students, provided oral health care services to athletes through the Special Smiles Program — the dental health component of the Special Olympics Healthy Athletes Village. Started in 1997, Healthy Athletes offers free screenings including vision, hearing, and dental in a welcoming, fun environment.
Special Smiles allows athletes with intellectual disabilities the opportunity to take charge of their oral health. The screenings, performed by UMSOD students, are designed to increase awareness of the importance of oral health for the athletes, as well as their parents and caregivers.
In addition to screenings, which document athletes' oral health through a series of questions, students applied fluoride, fitted custom mouthguards, and taught athletes proper brushing and flossing techniques.
The screenings are particularly important for athletes with intellectual disabilities. Special Smiles examinations have found that a large percentage of Special Olympics athletes in the United States are unaware of the condition of their oral health with 49 percent showing signs of gum disease and 25 percent with untreated tooth decay.
For some athletes, the care doesn't end when they leave the Healthy Athletes Village. "There were a few athletes that had pretty significant dental caries," says Sheryl Syme, RDH, MS, associate professor and director of Dental Hygiene programs as well as Maryland Special Smiles clinical director. "We'll be following up with them to make sure that they're getting treatment either by their own private dentist or to find placement at the School of Dentistry."
And while treating and educating patients is an important mission for Special Smiles, it also provides valuable lessons for UMSOD students.
"This isn't just a free health screening for our athletes," says Kayla Shields, director of Inclusive Health and Fitness at Special Olympics Maryland. "Healthy Athletes is also used as a health education tool for students and health professionals to get them more experience with working with individuals with intellectual disabilities."
Ward, who performed oral screenings at the event, said the experience was eye-opening. He was impressed by how interested the athletes were in learning about oral health. "Besides my brother, I don't have a lot of experience with the special needs population," he says. "Volunteering helped me be more familiar, a little more comfortable with this population."
Syme, who has been Maryland Special Smiles clinical director since 2007, and her newly trained co-director, Sydnee Chavis, DMD, volunteered at the event. Syme agrees that the volunteer opportunity serves as an educational tool for students.
"We're training students to be comfortable working with individuals with intellectual disabilities," she says. "Part of that is learning how to communicate."
UMSOD students have a three-decade history volunteering with the Maryland Special Olympics starting with the first group brought in by Mark Wagner, DDS, professor emeritus, in the late '90s.
"They were amazing," Shields says of this year's dental and hygiene student volunteers. "They were all so happy to be here and willing to jump in wherever help was needed. I heard nothing but good things after the Special Smiles screenings."
Ward, who has memories of his brother's difficult visits to the dentist, hopes the interaction with dental professionals in a relaxed and fun atmosphere will help patients feel more at ease in a dentist's chair.
"He's a lot better now and he's a lot more eager to go, but I don't want anybody to have negative feelings or be traumatized to go to a dental office," says Ward. "That's one of the reasons I got into the dental field. We don't want you to be scared. We're here to help."
Syme agrees, adding that the day's goal was to improve the overall health of the participants. "We want athletes to be able to compete pain-free," she says.