Radi Masri, DDS, MS '01, PhD '05, associate professor in the Department of Advanced Oral Sciences and Therapeutics, director of the Graduate Prosthodontics Program, has won the American College of Prosthodontists' (ACP) 2018 Distinguished Service Award.
The award, which will be presented on Nov. 2 at the ACP's annual session in Baltimore, honors recipients who have shown "outstanding service to the [ACP] and the characteristics of a true humanitarian," according to the ACP website.
"I am extremely honored to receive this prestigious award, especially since it recognizes my work for the ACP," said Masri.
"Dr. Masri has already received many accolades for his excellence in research, publications, and innovations," said Carl Driscoll, DMD, professor in Prosthodontics and Masri's predecessor as program director, "but this award in particular highlights how much he has given in service."
It has been a summer of honors and accomplishments for Masri. He was named editor-in-chief of the ACP's Journal of Prosthodontics in July — after serving five years as associate editor — just as he assumed his new role as director of UMSOD's Graduate Prosthodontics Program.
Masri is also program chair for the 2018 ACP annual session. Among other duties, he was heavily involved in the ACP's creation of a digital curriculum for dental schools, spent a decade chairing the ACP's Board Preparation Course, and is a member of the ACP's board of directors. He received the ACP's Clinician/Researcher Award in 2012.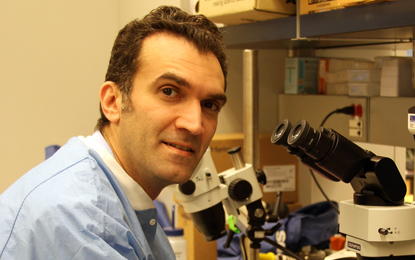 Masri credits UMSOD for inspiring his dedication to service.
"I am a product of the prosthodontics program here at UMSOD," he said. "The faculty members take you to another level. They made me love the specialty and want to make it better."
Masri first came to UMSOD for a residency in prosthodontics after earning a DDS in his native Jordan. After completing his residency in 2001, he earned a doctoral degree in oral/craniofacial biology at UMSOD in 2005 and has served on the faculty ever since. In addition to his service-oriented activities, he supervises a lab that has received several federal grants to study the mechanisms and treatment of neuropathic pain.
The Distinguished Service Award won't be his only accolade this November, either.
"The funny thing is," Masri said, "since I'm organizing the event, I get another award for that. So I'll be at the podium quite a lot."
Given everything he's done for the ACP, and the UMSOD, those trips to the stage will be well-deserved.