Surya Joseph, DDS, MBA, is a rare combination. Few people have degrees in both business administration and dentistry. Fewer still have continued their education further, as Joseph is doing by pursuing a graduate degree in Orthodontics at the University of Maryland School of Dentistry (UMSOD).
For Joseph, however, this breadth of education serves one purpose: to gain a thorough understanding of both the business and clinical sides of dentistry in order to provide the best care without compromise.

"You have to problem-solve in order to meet both patient and insurance demands, and if you are just a dentist, you might not have the level of insight you need to do so," she says.
Last spring, Joseph was given a unique opportunity to put her ideas to the test and explore a potentially cost-saving new orthodontic treatment. She was awarded the American Association of Orthodontics' (AAO) Charles J. Burstone Research Aid Award grant of $5,000 for her project, "Use of Temporary Anchorage Devices for Ridge Preservation after Tooth Extraction." Under this grant, Joseph will test the placement of a transcortical mini-screw in the healing buccal plate of a socket to see if it preserves the alveolar bone following tooth extraction.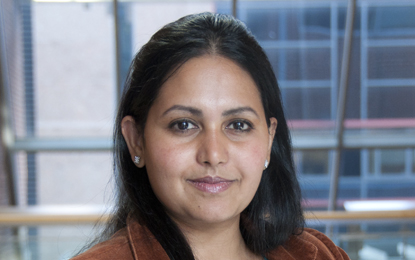 If successful, this treatment will present a less invasive and risky alternative to ridge preservation surgery. "Successful outcomes from this study will demonstrate that placements of mini-screws at the buccal plates of extraction sites significantly reduce bone loss at the sites without side effects," Joseph wrote in her project synopsis.

Most importantly, this procedure could potentially preserve the dimensions of the ridge after extraction and reduce patient costs.

"We see so many cases when a patient loses a tooth and can't afford an implant. We can put a mini-screw at a fraction of the cost and maintain the integrity of the bone while the patient plans to put a restoration in place," she says.

Grant funds provided by the AAO will ease the monetary burden for test patients and allow Joseph to recruit more people for the study. She will submit a final report on her results to the AAO by July 1, 2019.
Joseph, who plans to start a practice after graduation with her husband, Shashank Joshi, DDS, Perio-Prosthodontic fellow at UMSOD, , views this study as the first step in an ongoing effort to study treatment methods that will have a sustainable impact on the field of orthodontics and periodontics.
"My future plan is to further research the various theories that force me to add an innovative and distinct component to the practice of orthodontics," she says.