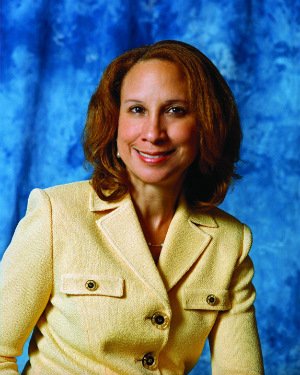 Leslie E. Grant, DDS '86, MPSA, was recently awarded the American Association of Women Dentists' (AAWD) Lucy Hobbs Taylor Award, the organization's top honor.
Named after the first woman to earn a doctorate in dentistry, the award honors an AAWD member who has a record of accomplishment in one or more areas of dentistry, such as clinical dentistry, organized dentistry, academia, government, anthropology, archeology, philanthropy, or consulting.
"Lucy Hobbs Taylor was a woman of great character and undaunted spirit," says Grant. "Through her persistent determination, she opened the doors of the dental profession to women. I am exceedingly thankful to the American Association of Women Dentists for all that they do to promote the legacy of Dr. Hobbs Taylor by advancing professional excellence."

Grant's career is defined by a dedication to helping others. After receiving a bachelor's degree in speech and hearing from Boston University, and a master's in speech pathology and audiology from the University of Washington, she started as a speech and language pathologist who worked with physically handicapped children before transitioning a career in oral health. "I decided that the experts in the functioning of the oral mechanism were dentists," she said.
After graduating from the University of Maryland School of Dentistry (UMSOD), Grant has practiced in the Baltimore area for more than 20 years and became heavily involved in organized dentistry. In 1996, she became the first woman to serve as speaker of the house for the National Dental Association (NDA); in 2006, she became the NDA's president. Grant is also a member of the Academy of General Dentistry, the American Association of Women Dentists, the American Dental Association, and the American Speech-Language-Hearing Association.
In addition to her work with dental associations, Grant served as chief dental officer at the Maryland State Board of Dental Examiners and is a past chairman of the board of the Organization for Safety, Asepsis and Prevention (OSAP). Currently, she serves on the boards of the Dr. Edward B. Shils Entrepreneurial Fund, the Baltimore County League of Women Voters, and Oral Health America. For close to a decade, she has also provided school-based public health services for the Baltimore city's health department.
In 2015, The Daily Record named Grant one of Maryland's "Top 100 Women," a list that recognized outstanding professional achievement, community leadership, and mentoring. In 2006, Ebony magazine named Grant as one of the "One Hundred Most Influential African Americans."
Grant's passion for community outreach and engagement is what has motivated her to take on so many leadership roles throughout her career. "For us to successfully be aware and implement changes when necessary, we need to be active in organized dentistry and influence policy," she says.
Ultimately, Grant derives satisfaction from the impact she can make through the dental profession. "I think [dentistry] is the greatest profession on earth. We alleviate pain, we restore smiles, and we help with a sense of self-esteem," she said.