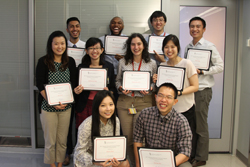 On July 28, a small group of incoming D1 and rising D2 students at the University of Maryland School of Dentistry (UMSOD) got a chance to display their scholarly research and creative presentation abilities during the Summer Research Training Program poster competition.
In front of a panel of judges consisting of UMSOD faculty and students, participants presented research findings developed in collaboration with a faculty mentor during an intensive, eight-week long program.
Many of these students relished the challenge. "I had been out of school since 2014. I wanted to re-engage myself academically, and this was the selling point," said incoming D1 student Dan Yang, who placed third in the competition and won the Hinman Student Research Symposium Travel Award.
Yang worked with Jin Ro, PhD, professor in the Department of Neural and Pain Sciences, researching chronic pain management for the elderly. "Dr. Ro has been very helpful and very patient telling me his thought process and preparing me for the future," says Yang.
The competition's first-place winner of the Dentsply Sirona AADR Student Travel Award, Alexandra Rizk, conducted research with Radi Masri, DDS, MS, PhD, associate professor in the Department of Advanced Oral Sciences & Therapeutics.
"This was the best thing I could have imagined doing with my summer," said Rizk, "especially getting to work with mentors who are going to be your lecturers in class."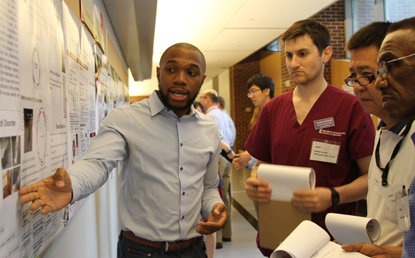 Another student, Chimdi Ego-Osuala, was encouraged to participate in the program by his brother, Derek Ego Osuala, a 2007 graduate of UMSOD.
"He informed me that your grades in research are what will set you apart from your peers, and that this program was the best way to get involved," said Ego-Osuala.
As part of the program, each student also presented a 5 minute oral presentation in front of their peers and members of the National Institute of Dental and Craniofacial Research (NICDR) in mid-July.
While the program provides clear benefits for students looking to learn more about research, get an academic head-start, and network with their classmates and teachers, faculty mentors also benefit greatly from the extra assistance in their labs.
"The program is incredibly beneficial because most of the students are energetic, bright, and a have a research background coming in," says Robert Ernst, PhD, professor in Department of Microbial Pathogenesis. "We get to foster and develop this foundation."