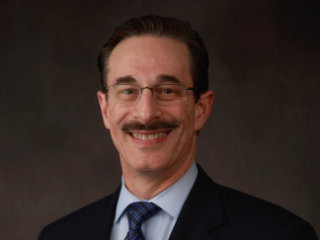 Paul S. Rosen, DMD, MS, '90, has dedicated his career to using research as both the basis for his practice and to improve the lives of patients. Last year, he won the Master Clinician award from the American Academy of Periodontology, a testament to the effectiveness of this approach.
The Master Clinician Award is one of the highest AAP honors. It is awarded annually under a rigorous selection process to an AAP member who has demonstrated both clinical excellence in periodontics and a willingness to unselfishly share this expertise with members of the profession. Candidates must have at least 25 years of experience in the field to be eligible.
With 28+ years of periodontal experience working in a private practice, Rosen is the youngest candidate ever to receive this honor, but while this award is the culmination of over a quarter-century of work, Rosen is not ready to rest on his laurels.
"It was a great honor and a very humbling experience to get up on stage and receive the award, but you always have to try to be at the top of your profession. It's not the completion of what I do; it but rather a motivator to push me to do better."
This insatiable drive towards acquiring knowledge and continuously improving has motivated Rosen since his days as a student. After earning his DMD from University of Pennsylvania School of Dental Medicine in 1986, Rosen attended University of Maryland School of Dentistry (SOD), receiving his Certificate in Periodontics in 1988, followed by a Masters degree in Oral Biology in 1990. During his time at SOD, Rosen developed a deep appreciation for research and how this foundation can improve clinical practice.
‌"When you receive your DMD, your education is just beginning." Rosen further stated, "My time as a resident at SOD gave me a better understanding of how to read and evaluate literature. Our goal is to provide the best care for those who seek us out, and a strong foundation in basic science and research methodology can help you capitalize and optimize the existing information to enhance your practice."
Part of what attracted Rosen to SOD – in addition to the research opportunities - was the chance to study under Dr. Gerald Bowers, who is a renowned figure in the history of periodontology. Over the course of his career, Bowers served as chairman in the Department of Periodontics at the Naval Gradual Dental School from 1969-1974 while teaching as a clinical associate professor at Georgetown University. From 1974 to 1996, he was a professor and director of the Postdoctoral Program in Periodontics at SOD. Bowers' reputation was so strong that he served as the personal periodontist to Lyndon B. Johnson during his presidency.
For Rosen, studying under Bowers was an invaluable experience:
"We went to Maryland because we wanted to be trained by Jerry. His contributions to the field of periodontics in both regeneration and surgical technique, coupled with the people he trained who have gone on to be leaders in the field, make him one of the all-time legends."
Rosen has utilized this top-notch teaching and research foundation to help guide his private practice in Yardley, Pennsylvania for over 25 years. His practice specializes in periodontics, surgical implant placement and regenerative therapy.
In addition to his practice, Rosen has published over 50 articles and has served in a volunteer teaching capacity for multiple institutions. He is a member of the Dean's Faculty for SOD, is a clinical professor in the Department of Periodontics and Oral Implantology at Temple University Kornberg School of Dentistry, and is an Adjunct Professor at James Cook University's Dental School in Cairns, Australia. Moreover, Rosen teaches many CE programs a year at other institutions, dental association meetings, and dental study clubs.
Dr. Rosen's skill in both clinical practice and teaching made him an unquestionably strong candidate for the Master Clinician award, according to SOD Dean Mark Reynolds, a colleague of Rosen's.
"Dr. Rosen has distinguished himself as an innovator and leader in periodontics and exemplifies the highest standards of evidence-based clinical practice and patient care," said Reynolds, "his systematic approach to documenting and publishing surgical treatment and clinical outcomes has contributed significantly to the advancement of regenerative periodontal therapy."
Through all of his experience, Rosen believes that compassion for patients, combined with continuous education to help advance oral health, makes for the best level of care. This is why - despite being considered at the top his profession - he has no interest in slowing down.