A friendship formed in Baltimore more than six decades ago has been chronicled in a movie and a book and, most recently, has led to the establishment of a scholarship at the University of Maryland School of Dentistry (UMSOD).
Baltimore native Leonard "Boogie" Weinglass established the Dr. Sylvan Feldman Periodontal Scholarship Endowment last year in honor of a clinician's good work. But to fully grasp its underpinnings, let's turn back the clock to the late 1950s, when a group of teenage boys competed on city playgrounds and got together over burgers.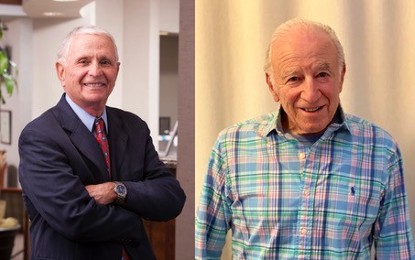 Their hangout was the iconic setting for the 1982 film "Diner," drawn from writer-director Barry Levinson's background. The long-lasting nature of the group's camaraderie also was the subject of the 1989 book "Diner Guys" by the late Howard "Chip" Silverman, PhD, MPH, MS, a group member.
A central character in the film and the book is smooth-talking Boogie, a jokester based on Weinglass, who went on to earn fame and fortune as a businessman, bidder for sports teams, and proprietor of a trendy diner in a Colorado ski town.
One of the pals, known as Van, chose a career in dentistry. His choice would turn out to be a lifesaver for Weinglass.
"He did well in his world. I did well in my world," says Sylvan "Van" Feldman, DDS '65, MLA, a member of the UMSOD Board of Visitors and a clinical associate professor of periodontics on the Dean's Faculty. At 81, he is a diplomate of the American Board of Periodontology and practices in Towson, Md.
Weinglass' world was retail. He founded Merry-Go-Round Enterprises, Inc., a publicly traded company with a chain of nearly 1,500 clothing stores. Its merchandise was stylish and edgy, like the persona of its founder. Next, Weinglass ran Boogie's, a combo clothing store and diner in Aspen, Colo., where he is known for his philanthropy.
Now 80, Weinglass makes his home on 21 acres, called Merry-Go-Ranch, near Aspen. But he lives part of the year in Maryland where, in 2012, he made a routine visit to his dentist.
That's Feldman, of course. During the oral health exam, Feldman says, he spotted a telltale swelling and swiftly referred Weinglass to a specialist. A same-day biopsy revealed oropharyngeal cancer. Weinglass was treated and recovered.
"I had no idea. None," Weinglass says. "He saved my life."
More recently, Weinglass was troubled by other worrisome symptoms. Feldman referred him to an oral pathologist for a diagnosis and treatment through UMSOD's Faculty Practice.
In a tribute to Feldman, Weinglass donated $100,000 to UMSOD to endow scholarships for postgraduate students in periodontics.
"He really is a genius at his profession. I'm not just saying that because he's my friend. He is the most creative, innovative guy," Weinglass says, describing Feldman's approach to dental care. "Whoever he helps teach will go on to be successful."
Weinglass defers to his friend when asked for career advice to give future scholarship recipients. Replies Feldman, who earned a master's degree at midlife: "Stay on top of things; continue educating yourself."