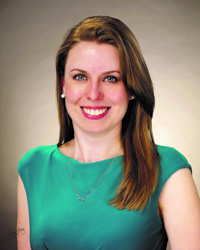 Vanessa Benavent, DDS '09, MSD, FAGD, recently was listed as a 2018 American Dental Association's (ADA) 10 Under 10 awardee for 2018.
The ADA's annual 10 Under 10 awards honor dentistry's rising stars—or those who are making a significant impact on the profession fewer than 10 years after graduating from dental school. After reviewing more than 200 nominations, the ADA listed 10 dentists as the profession's "next big names," or professionals who are "making a difference and inspiring colleagues through their work in science, research & education, practice excellence, philanthropy, leadership and advocacy."

Benavent, who practices in Clarksville, Md., also serves as president of the Maryland State Dental Association and is an adjunct faculty member at the University of Maryland School of Dentistry (UMSOD). In her role as MSDA president, she has testified numerous times before state legislators on behalf of the dental profession and her passion for dentistry is an inspiration to her colleagues and students.
Benavent previously served as a Clinical Assistant Professor in UMSOD's Department of Neural and Pain Sciences as well as an Associate Graduate Faculty for the University of Maryland Graduate School. She earlier served on the Dean's Faculty from 2009-2012 and as Clinical Director of the Brotman Orofacial Pain Clinic from 2012-2015.
She became a Diplomate of the American Board of Orofacial Pain in 2012 and a Fellow of the American Academy of Orofacial Pain and the Academy of General Dentistry in 2013. Benavent also is a member of the International Association for the Study of Pain, American Association for Dental Research, International Association for Dental Research, American Academy of Dental Sleep Medicine, Howard County Dental Association, and the American Dental Association. For more on the ADA's 10 Under 10 awards, visit here.