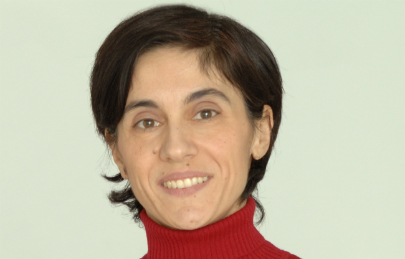 Niki Moutsopoulos, DDS, PhD '06, principal investigator at the National Institute of Dental and Craniofacial Research (NIDCR) at the National Institutes of Health (NIH) and head of the Oral Immunity and Inflammation Unit, spends her days investigating the immune system of the oral cavity.
In 2003, Moutsopoulos, who studied under current University of Maryland School of Dentistry (UMSOD) Dean Mark A. Reynolds, DDS '86, PhD, earned a certificate in Periodontology at the UMSOD and in 2006 completed a PhD in Immunology at both the NIDCR and UMSOD.
She is the lead author of the article, "Interleukin-12 and Interleukin-23 Blockade in Leukocyte Adhesion Deficiency Type 1," which recently was published in the prestigious New England Journal of Medicine. You can view a video featuring her work on the journal's website.
In the following interview, Moutsopoulos discusses her UMSOD experience, the focus of her research, and the importance of integrating research into clinical practice.
You earned your DDS degree at the Aristotle University of Thessaloniki in Greece, what brought you to UMSOD?
After getting my DDS degree, I came to NIH for a year to explore research opportunities and enrich my CV before entering specialty programs. When I was at NIH, I spoke with faculty at Maryland and realized it was the ideal place to specialize in periodontics while continuing to do research at NIH. It was also key that Maryland had one of the strongest clinical programs around. We had both tremendous full-time faculty and great interaction with the volunteer Dean's Faculty. Both the clinical and academic experience was great. I define myself as a clinical investigator and my clinical identity as a periodontist was entirely formed in Maryland.
At what point did you decide to focus on research rather than be a practitioner?
I never thought I would be a clinician full-time; I was mostly interested in academics. But I did enjoy performing clinical work, and my research at NIH includes an active clinical program. I see patients who are medically compromised patients and who are in research protocols.
Could you describe the focus of your research?
My laboratory focuses on understanding the immune system of the oral cavity in both health and disease. The oral cavity is a site that is constantly exposed to the outside environment and to commensal microbes, yet we are able to control infection and inflammation in a phenomenal way. My lab aims to characterize key mechanisms involved in physiologic immunity in the mouth. At the same time, our clinical interest is periodontal disease, a common inflammatory disease of the oral cavity, and so we try to understand how the immune system becomes dysregulated and destructive in the setting of this disease. We study patients with genetic and aggressive forms of periodontitis in an effort to pinpoint critical pathways implicated in periodontitis pathogenesis.
What are the implications of the study recently published in the New England Journal of Medicine?
Our recent paper is a proof of concept study, involving treating aggressive periodontitis in a patient with Leukocyte Adhesion Deficiency 1 (LAD) using a monoclonal antibody to the cytokine IL-23. We have a lot more work to do and plan to treat more patients with Leukocyte Adhesion Deficiency using the same treatment before we can conclusively evaluate the efficacy of this treatment. However, conceptually, our work opens up the possibility of using biologic agents in the treatment of aggressive periodontitis. Our lab is particularly interested in the inhibition of IL23/IL17 cytokine pathways in the treatment of periodontitis.
Coming from the research side, what advice would you have to periodontists who are private practitioners?
To be engaged in academics, to be close to the academic setting and always be learning. Medicine is advancing very fast, and unless you are close to it, it will be difficult to catch up. Keeping close to the academic environment will make us better practitioners at the same time.