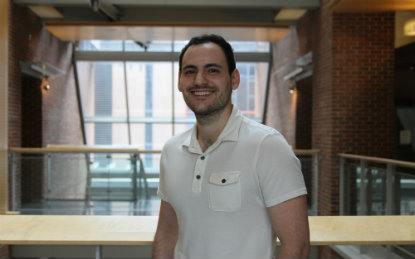 When Joey Fishbein entered an open audition to sing the national anthem at commencement, he was under the impression that it was for the School of Dentistry's Honors Convocation Ceremony.
When he arrived for the audition, however, it quickly became clear that he was trying out for a much larger event. "I saw people from all the other schools and realized it was for University of Maryland Baltimore (UMB)'s commencement."
Nevertheless, Fishbein wasn't rattled. "I just sang it," he said.
The D4 student, who after graduation will serve in an orthodontic residency at the Georgia School of Orthodontics in Atlanta, was chosen to perform May 19 at the UMB Commencement.
Although this will be his first time performing the national anthem, Fishbein is an experienced musician. As an elementary school student, he played drums in a band with his two older brothers. "We tried to be like the Hanson brothers, but I don't think we were good looking enough," he joked.
While attending Pikesville High School, Fishbein played piano and sang in a band called the New Age Outlaws. He continued playing with that band while majoring in music education at the University of Maryland Baltimore County. After graduation, he decided that music would be best pursued as a side hobby and enrolled in dental school. Having family members in dentistry helped solidify the transition for him.
"If you are doing music full time, you can't play for fun," he said. "Having it on the side is a way to escape from all of the stresses in your life."
Despite the career shift, Fishbein sees a strong connection between music, art, and dentistry. "A lot of students have different artistic backgrounds. We spend our first year waxing up sculptures of different types of teeth. We joke that labs in school are like dental-related arts and crafts."
Fishbein has stayed involved with music despite the workload at UMSOD. He is the lead singer and keyboard player in indie rock band Naughty Nala, whose 2017 album "Someday" is available on Spotify, iTunes, and Apple Music. He also performs with the UMSOD-based band the Distal Groove, which for the last two years has won the annual UMSOD student Battle of the Bands.
"Joe's perfect pitch and incredible ear for music make him one of the best musicians I have ever met," said Luke Tompkins, a fellow D4 student who also performs with the Distal Groove. "I was really happy to hear he had been selected to sing our national anthem. I know he will make his classmates and country proud!"
Although the national anthem is considered difficult to perform, Fishbein remains unfazed. "It's all about finding the right key," he said.