David Seminowicz, PhD, associate professor in the University of Maryland School of Dentistry's (UMSOD) Department of Neural and Pain Sciences, has received a $1.4 million, five-year phased award from the National Institute of Neurological Disorders and Stroke (NINDS), part of the National Institutes of Health (NIH).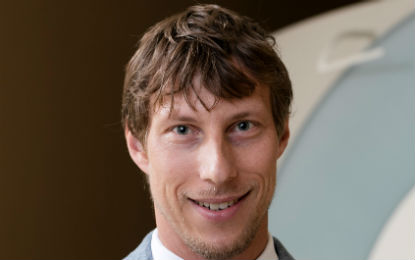 The recent grant is part of a sweeping, national effort. The NIH launched the Helping to End Addiction Long-term Initiative, or NIH HEAL Initiative, in April 2018 to improve prevention and treatment strategies for opioid misuse and addiction and enhance pain management.
The UMSOD award is one of 375 grant awards across 41 states made by the NIH in fiscal year 2019 to apply scientific solutions to reverse the national opioid crisis.
Seminowicz and his team are trying to identify people at higher risk of developing severe and chronic pain. One example of where this would be critically important is post-surgery pain: according to Seminowicz, 20 to 40 percent of patients will develop chronic pain following some types of surgery.
"We don't yet have a clear idea what the best predictors of post-surgical pain sensitivity are," Seminowicz said. "We hope this study validates potential brain biomarkers that we have shown in preliminary work to predict pain sensitivity to multiple types of pain. The biomarker includes two rapid, noninvasive measurements of brain activity using electroencephalogram and brain stimulation."
He continued "the research is possibly relevant to other pain conditions such as temporomandibular disorder (TMD), where the biomarkers could predict the development of chronic pain following an initial complaint of facial pain."
"Dr. Seminowicz's pioneering research on predictive biomarkers has the potential to identify those at risk of developing severe and persistent pain, allowing for earlier, more targeted, interceptive interventions," said Mark A. Reynolds, DDS, PhD, dean and professor at UMSOD.
"I am pleased that through his novel research, Dr. Seminowicz is contributing to the NIH HEAL Initiative by helping develop new strategies to improve pain management and reduce reliance on opioids."
In collaboration with Siobhan Schabrun, associate professor at Neuroscience Research Australia and University of New South Wales in Australia, Seminowicz will look at a model of TMD in healthy volunteers to validate the initial theory. In the second phase of the study, the researcher will attempt to predict which patients presenting with early TMD symptoms will go on to develop TMD or recover.
The NIH HEAL Initiative aims to improve treatments for chronic pain, curb the rates of opioid use disorder and overdose and achieve long-term recovery from opioid addiction.
"It's clear that a multi-pronged scientific approach is needed to reduce the risks of opioids, accelerate development of effective non-opioid therapies for pain, and provide more flexible and effective options for treating addiction to opioids," said NIH Director Francis S. Collins, MD, PhD, who launched the initiative in early 2018. "This unprecedented investment in the NIH HEAL Initiative demonstrates the commitment to reversing this devastating crisis."