Robert K. Ernst, PhD, the inaugural recipient of the Dr. Paul and Mrs. Jean Corcoran Endowed Professorship, was honored May 24, 2021, at a virtual investiture ceremony.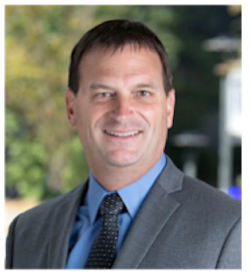 Established by Paul G. Corcoran, DDS '75, and Jean M. Corcoran, the endowed professorship will enable the University of Maryland School of Dentistry (UMSOD) to recruit and retain an outstanding researcher and educator whose work will further basic and applied research in critical areas of dental medicine, including the diagnosis, pathogenesis, and treatment of infections and infectious diseases involving the oral cavity and head or neck.
Citing former professors whose mentorship has had a lasting impact on his life, Dr. Corcoran, who is a 1968 graduate of the University of Maryland, College Park, said he was delighted to participate in the investiture.
"The University of Maryland and, subsequently, the University of Maryland School of Dentistry transformed an 18-year-old boy — not a man — into a DDS and changed my life," he said.
"I feel very fortunate that, through our support of this endowed professorship, Jean and I are able to give back to the dental profession."
Dr. Ernst serves as professor and vice chair in UMSOD's Department of Microbial Pathogenesis, and as adjunct professor at the University of Maryland School of Medicine and the Department of Veterinary Medicine at the University of Maryland, College Park. Since arriving at UMSOD in 2008, he has received more than $14 million in research funding from agencies including the National Institutes of Health, the U.S Department of Defense, and the Cystic Fibrosis Foundation.
A co-founder of Pataigin LLC, a rapid lipid-based diagnostic and antimicrobial resistance platform, Dr. Ernst, who holds 15 awarded or pending patents, is also in discussions to establish a Maryland-based startup for the commercialization of novel adjuvants using patented technologies developed at his laboratory.
During the virtual investiture ceremony, Dr. Ernst thanked his family, mentors, colleagues, and Dr. Reynolds, UMSOD dean and professor. Additionally, he expressed his gratitude to the Corcorans for establishing the professorship.
"Being named the Dr. Paul and Mrs. Jean Corcoran Endowed Professor is a prestigious honor. It comes with great responsibility. I look forward to interacting with Jean and Paul frequently, and I will keep them apprised of the successes that we have in the future due to their gift," Dr. Ernst said.
"This is a lifelong collaboration between their family and our lab and, when we can travel again, I look forward to showing them around our floor, our building, and our lab."
Dr. Ernst's high energy and creativity form a "formidable combination in a researcher," said James B. Kaper, PhD, vice dean for Academic Affairs; James & Carolyn Frenkil Distinguished Dean's Professor; and chair, Department of Microbiology & Immunology at the University of Maryland School of Medicine, who was one of several speakers at the ceremony.
Noting that Dr. Ernst's work using mass spectrometry to analyze lipids of both the microbial pathogen and the host cells is highly innovative, Dr. Kaper said, "This is truly disruptive technology that has resulted in several high-impact publications that will point the way for others to use this approach to study a wide range of microbial pathogens."
An investiture ceremony reflects the role played by endowed professorships in providing preeminent faculty members with the resources critical to their continued success, Dr. Reynolds said. "We also have an opportunity to salute Dr. Ernst's notable achievements throughout the years, and we are able to express our immense appreciation to our donors, Dr. Paul and Mrs. Jean Corcoran."
During an investiture ceremony, the named recipient is honored with a special medallion in recognition of their accomplishments. The front of the medallion features an etching of the School of Dentistry building and images of Horace H. Hayden and Chapin A. Harris, who in 1840 founded the school — the first dental college in the world.
The back of the medallion lists the name of the endowed professorship, as well as a description of the school's purpose: Advancing Oral Health. Improving Lives.
The medallion "honors your pioneering work as an educator and scientist," Dr. Reynolds said to Dr. Ernst. "I am honored to present this medallion to you. It signifies that you now have become the first Dr. Paul and Mrs. Jean Endowed Professor. I hope you will wear the medallion proudly, wearing and displaying it at major events such as investitures and commencements. Congratulations!"
To view the virtual investiture program, please visit www.dental.umaryland.edu/micropath/research/dr-robert-ernst-lab/dr-robert-k-ernst-investiture-ceremony/.