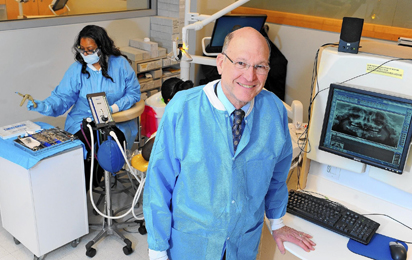 Norman Tinanoff, DDS '71, MS, professor in the Division of Pediatric Dentistry at the University of Maryland School of Dentistry (UMSOD), has a straightforward description of his life's work: "Pediatric dentistry is about prevention. We want to prevent cavities, not fix them, and prevention is based on science and evidence-based studies," he says.
That philosophy has driven the professor's 40-year career and attracted widespread acclaim. He is the 2018 recipient of the American Academy of Pediatric Dentistry's (AAPD) Evidence-Based Dentistry Service Award, which recognizes a pediatric dentist who has made a major contribution on a national or international level to the dental profession and the specialty of pediatric dentistry through evidence-based clinical practice, academics or policy development. The honor will be presented in May during the AAPD annual session in Honolulu, HI.
Tinanoff is credited with making significant contributions to pediatric dentistry through his work with the AAPD's Council on Clinical Affairs. The council develops best practice guidelines for pediatric dentists and publishes an official reference manual, Oral Health Policies and Best Practices.
The professor has a long history with the publication: He was the lead author of one of the three guidelines that appeared in the manual's seminal issue in 1979. "Now it's a five-pound book," he says.
Since then, Tinanoff has been instrumental in first authoring 11 of the 80 standing policies and guidelines that span topics from caries management to usage of silver diamine fluoride.

Tinanoff, who also had a major role in the Journal of Pediatric Dentistry since that publication's founding in 1980 and has served as its associate editor since 2015, credits the AAPD for supporting evidence-based dentistry—and the UMSOD Division of Pediatric Dentistry for fostering a culture conducive to work that advances the field of evidence-based dental practice. "Our division has a reputation for teaching evidence-based dentistry, and we feel that it's the most important lesson that our students can learn. All of the faculty in our division work hard to be scholars," he says.
Tinanoff continues, "When we teach on the clinical floor, a conversation may happen where a resident wants to perform a certain treatment, and the faculty member will answer 'Tell me why? What is the evidence for it?' And the resident and faculty together may develop a research question to examine the evidence. It's a Socratic approach to teaching."
Vineet Dhar, BDS, MDS, PhD, associate professor and interim-chair of Orthodontics and Pediatric Dentistry, and winner of Paul P. Taylor award from the AAPD in 2016 and in 2017 for coauthoring the most prestigious article published in the journal Pediatric Dentistry, credits Tinanoff for promoting this Socratic approach within the division.
"Dr. Tinanoff has worked for decades advocating for the development of evidence-based pediatric dentistry," Dhar says. "He's a pioneer in the field and a major influence in how I approach research."
As a dental student, Tinanoff was inspired by Donald J. Forrester, former chairman of the Department of Pedodontics, to explore science and academic dentistry. After graduating from UMSOD in 1971, he acquired advanced training in Pediatric Dentistry at the University of Iowa, and then served two years in at the Army Institute of Dental Research. In 1976, he joined the faculty of the University of Connecticut before coming to UMSOD in 1998.
In addition to serving on the AAPD Council on Clinical Affairs and as associate editor of the Journal of Pediatric Dentistry, Tinanoff is a member of the American Dental Association (ADA)'s Council on Scientific Affairs, which also develops evidence-based guidelines for dentistry. Outside of these roles, Tinanoff's time is spent conducting research, clinically supervising students, and classroom teaching.
"Our division is constantly doing scholarship that fills up all much of our evenings and weekends," he says.