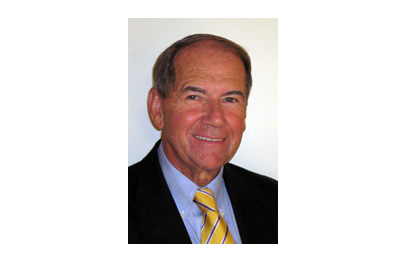 Some people figure out their career direction at a young age, but Hal Crossley, DDS '80, MS, PhD, has taken a different approach.
The Rhode Island native has been a pharmacist, pharmacologist, teacher, dental practitioner, and traveling lecturer. He chalks up his zigzagging professional path to keeping an open mind and taking advantage of opportunities.
"Don't get so mired down in what you're doing that you don't seize an opportunity because it could change the whole direction of your life." he says.
Crossley, who will present a Continuing Education Course on June 2 as part of the University of Maryland School of Dentistry (UMSOD)'s All-Alumni Reunion, often frames important life moments with self-effacing, deadpan humor. In 1959, after growing up with modest means, Crossley accepted a $500 scholarship (which covered tuition as well as room and board) to attend pharmacy school at the University of Rhode Island (URI).
"Nobody wanted it, so I took it," he says.
Crossley dropped out after a year. "I got disenchanted; I was more interested in bowling and bridge," he says. After leaving college, Crossley washed dishes and mopped floors at Kent County Memorial Hospital in Warwick, RI. While there, he was befriended by the hospital CEO, William Lang, who recommended that Crossley give pharmacy school another shot.
"Lang was like a surrogate father to me," he says.
Crossley heeded Lang's advice and graduated from URI in 1964. He again worked at Kent County Hospital, this time for several years, decided he wanted to expand his knowledge, and returned to URI to get his PhD and Master of Science in Pharmacology in 1972. In the interim, he got married and had two sons.
After earning his PhD, Crossley joined the faculty at USMOD. Two years later, another series of opportunities changed the trajectory of Crossley's life. First, UMSOD Dean Erroll Reese recommended that Crossley get a DDS degree. Reese wanted good researchers who were also clinicians.
Initially, Crossley wanted no part of it. "I had no desire to put my hands in someone else's mouth, but I went home to talk to my wife about it," he says. "She thought it was a great idea because she didn't have to do it."
About that time, Crossley also received a call from a middle school in Linthicum, Md., which was looking for a guest speaker to explain to a sixth grade class the difference between a pharmacist and pharmacologist. Crossley visited the local DEA office to pick up a few brochures for the kids, struck up a conversation with one of the agents and was invited to give a lecture to the agents on the pharmacology of heroin and cocaine.
"They liked it," he says. "Then the Chicago and Miami DEA offices heard about it and invited me to speak."
Thus began Crossley's long and storied second life on the lecture circuit. In cities across the country, the DEA promoted Crossley's course on basic narcotics enforcement, and Crossley visited and spoke to the officers. Simultaneously, Crossley earned his DDS in 1980 and worked in the UMSOD's Faculty Practice. Crossley credits former Dean Reese for supporting him.
"He had a lot of foresight and believed that it was good for the reputation of the school," says Crossley.
While teaching and lecturing, Crossley helped publish the first edition of the Drug Information Handbook with Richard Wynn, PhD, professor in the Department of Neural and Pain Sciences, and Timothy Meiller, DDS, professor of dentistry at the Veterans Affairs Medical Center of Baltimore. The Drug Information Handbook is a dictionary-like resource to help healthcare professionals to deliver timely, clinically relevant pharmacotherapy knowledge.
"Because of his (Crossley's) determination that this product would do well, it went from a skeptical one edition thin handbook in the 1990's to 23 years of print editions plus online versions, and collectively it is used by the majority of dental practices, dental schools, and VA and military programs in this country," said Wynn.
In 2004, Crossley retired from teaching and practicing, but still offers Continuing Education instruction to dentists. During alumni weekend, his course will cover the effects of physician-prescribed medications on dental treatments, current recommendations for SBE and orthopedic prostheses antibiotic prophylaxis, and signs and symptoms of teenage substance abuse, among other topics.
Crossley is passionate about informing dentists about the proper use of antibiotics and opioids. "We have a lot of problems with overprescribing antibiotics in the world." At 76, he enjoys traveling and seeing new things while educating dentists. Returning to UMSOD, allows him to reconnect with a community he loved, he says.
"The students were my family, and I really enjoyed lecturing."