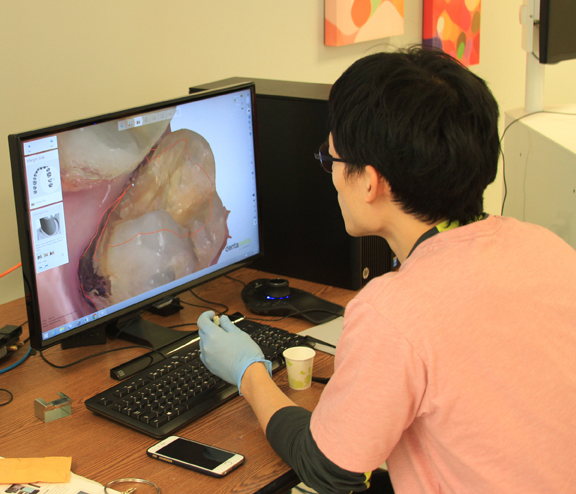 Prosthodontic resident Seung Kee Choi lays teh groundwork for a 3-D
printed dental prosthetic.
The day is near when a replacement prosthetic tooth or dental crown can be designed, fabricated and inserted with the convenience commonly associated with making a photocopy.
At the University of Maryland School of Dentistry, the groundwork is being put in place that will allow the relatively new technology of three-dimensional printing to be used to generate custom-made dental prosthetics while patients wait.
A key step in that direction was taken this year at the School of Dentistry when a collaboration involving prosthodontic resident Seung Kee Choi, Radi Masri, DDS, MS, PhD, an Associate Professor and leader of laboratory research for the Department of Endodontics, Periodontics and Prosthodontics; and Gary Hack '79, Associate Professor in the Department of Endodontics, Periodontics, and Prosthodontics and the Director of Clinical Simulation, printed a wax pattern for one of Dr. Choi's patients using a newly acquired 3-D printer.
It is the first time a dental school patient has benefitted as a result of receiving a dental restoration fabricated using 3-D printing technology in a fully digital, consolidated process.
3-D printing in dentistry
At present, 3-D printing is already being used by dental laboratories to fabricate dental models, surgical guides, complete removable dentures, orthodontic appliances, and also to print wax patterns for fixed prosthesis.
The advance, Dr. Masri says, is that "we now have a full digital solution that is implemented clinically."
The digital solution realized recently at the School of Dentistry was the integration of a single system of oral scanning and other advances in computer aided design/computer aided manufacture, or CAD/CAM, with a 3-D wax printer.
As Dr. Masri explains it, the advance – and the hardest part – was in developing the clinical and laboratory protocols that allowed for the coordination of the scanning, design and fabrication elements into a seamless process.
Such advances don't come quickly. As Dr. Masri says, the 3-D implant that was fabricated in February of this year was brought about through years of work. That work began with Dr. Masri and Carl Driscoll, DMD, professor and director of the prosthodontic residency program in the Department of Endodontics, Prosthodontics and Operative Dentistry, putting together the textbook, "Clinical Applications of Digital Dental Technology."
The book spells out how to implement the fully digital process that recently became a reality.
The place where the integration of technologies became reality was the School of Dentistry's Dream Room, a facility where students and faculty are able to test the practicality of the latest advances in dental technology.
In recent years, 3-D printing has become something of an iconic technology in popular culture, garnering mainstream attention as its many potential practical – and sometimes whimsical – applications have come into sharp focus.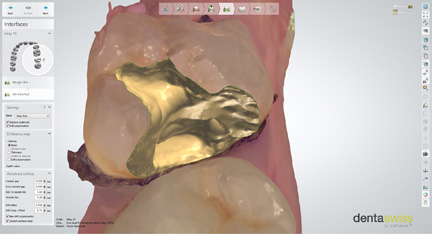 The restoration is planned on a computer.
The technology itself employs a laser programmed to strike specific areas within a photo-active resin/wax in a liquid solution causing the resin to harden. This is done one ink-thin layer at a time (to use the photocopy analogy) in many passes of the laser. Because the technology builds three-dimensional objects by adding one layer at a time, it is also known as additive manufacturing. Upon completion, the precise 3-D reproduction can be removed from the liquid solution and used in the next step of the process.
In the case of the dental restoration generated at the School of Dentistry, the 3-D printed pattern was then replicated in gold and the gold inlay was cemented on the patient's damaged tooth.
Up next
Dr. Hack says the step taken to add 3-D printing to the lexicon of tools available in modern dentistry helps to expand the treatment options available to clinicians and patients.
"The future is bright for dentistry and we want to continue to explore and expose our students to the best available and emerging digital technologies," Hack says, adding, "As our students work with these new digital technologies while in school, they are more likely to want to incorporate these technologies into their dental practices."
Though an impressive advance unto itself, the 3-D printed pattern used to fabricate the gold restoration at the School of Dentistry was but a new step in an evolving technology. As Dr. Masri points out, the additive (3-D printing) manufacturing process is one of two options for manufacturing dental restorations. The other is the subtractive process, which entails milling a ceramic block into a restoration, also using digital technology.
Future steps will involve refining the process. For example, directly producing ceramic implants made using the 3-D printing process is on the horizon, according to Dr. Hack.
‌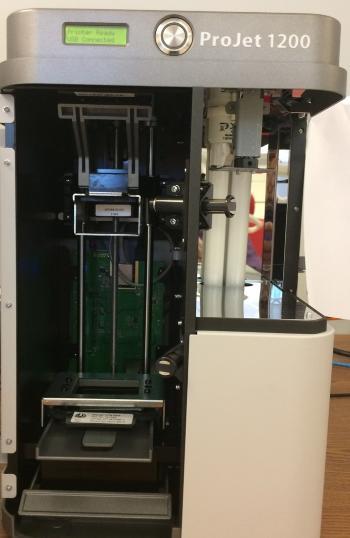 The 3-D printer being used in the School of
Dentistry Dream Room.
While gold remains a viable material for manufacturing dental prosthetics, ceramic restorations have become the standard for recent generations because they can be made in the color of natural teeth.
From a 3-D printing perspective, however, ceramic materials present a range of technical problems. The current state of 3-D printing is such that while ceramic objects can be fabricated, the level of detail necessary for ceramic dental restorations is not up to modern standards.
That situation, however, is evolving, according to Dr. Hack, who has been collaborating with Technology Assessment & Transfer, Inc., of Annapolis, Maryland, to refine the process.
The firm's products range from temperature resistant materials to transparent optical ceramics. On the 3-D printing front, according to the company website, the firm "has modified existing 3D printing technologies, such as stereolithography, to produce ceramic parts. Photocurable resins filled with high levels of ceramic powder are used in place of traditional 3D printing materials. The Ceramic 3D Printed parts are fired to remove the photocurable resin binder and achieve the desired ceramic properties resulting in fully functional products."
Dr. Hack, and Sebastian Patzelt, DMD, Associate Professor at the medical center of the University of Freidburg, Germany, are working with Technology Assessment & Transfer, Inc., has secured a National Institutes of Health grant to aid in research to develop 3-D printing for direct fabrication of ceramic dental restorations.
Planning ahead
Dr. Masri, meanwhile, is looking forward to another aspect of digital dentistry technology that will be useful in the planning phase of prosthodontics.
"We have everything available except the ability to tell exactly how our restorations will alter soft tissue profiles," Dr. Masri says. He explains that the next step will be to develop a process that allows patients to see how they will look after restorative work is done, but before any restoration is manufactured.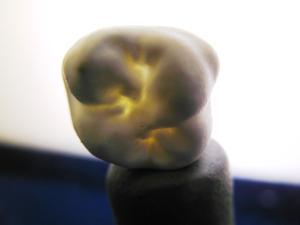 An experimental restoration printed directly
to ceramics.
Picking up a device roughly the size and shape of a staple gun, he explains it is a scanner and it can be used to record 3-D images of a patient's head – including soft tissue.
Merging such images with the digital images devised in the restoration design phase will allow patients to get an accurate idea of what they will look like once a procedure is completed.
This element of the dental planning process will add an element to a fully digital workflow.
But, Dr. Masri says, it remains years in the future.