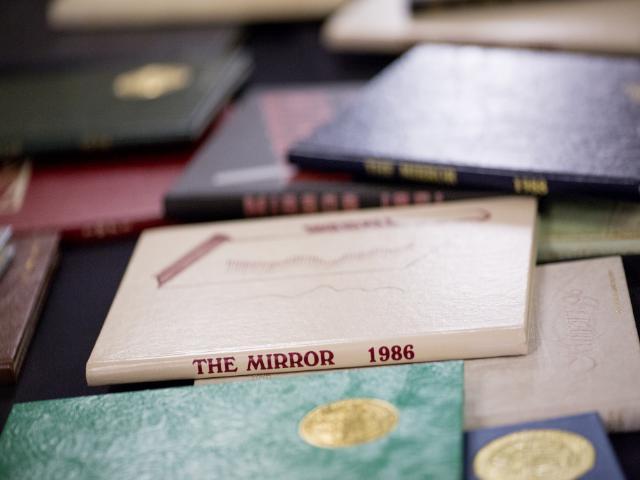 On the weekend of June 3-5, 2016, the University of Maryland School of Dentistry held its All-Alumni celebration. Among the classes represented at this reunion (ranging from 1956 to 2011), a common perception emerged: UMSOD has continued to improve and distinguish itself over the years, whether it's through new technology and facilities or the diversity of its student body.
"It was very different for me being the only woman in my class when I went here," said Dr. Barbara J. Steinberg, DDS '74, who was honored with the 2016 Distinguished Alumnus of the Year award at the opening reception, "but even though I've been on the faculty of another school (Drexel University) for all of my career, my heart is still here. I'm very proud of the things this school has done."
In her speech at the reception, Dr. Steinberg made note of the school's progress with gender representation, using the class of 2016 – which had more female DDS graduates than male – as an example.
Alums from all classes were impressed by SOD's increased diversity of students. Almost 20 percent of students from the class of 2018 are from underrepresented minority groups. Students are fluent in languages ranging from Arabic to Yoruba, and this language diversity has been documented in a recent student-made video.
Dr. Joyce Huey '81 has served as a clinical assistant professor at SOD for several years, and she's had a front seat to witnessing this transformation:
"I'm amazed at the mix of students we have now," she said, "when you look at the roster of students you're going to be working with you can't pronounce have of their names because they're from so many different places, and I think that's great."‌
The reception on June 3 brought all of the classes together for dinner, drinks, and photo opportunities. In addition to Dr. Steinberg, Sheryl Syme RDH '88 was also honored with 2016 Linda DeVore Dental Hygiene Alumnus Award, given to the dental hygiene graduate who represents the integrity, intellectual curiosity, community-mindedness and leadership epitomized by Ms. DeVore.
"Sheryl has been a stalwart colleague, dedicated to her profession, school and students," said Marion Manski, Director of the Dental Hygiene Program.
While Dr. Steinberg and Ms. Syme were being honored, graduates reflected on the rapid changes to the SOD campus over the years.
"When we left in 66', they were constructing the new building, now they've finished 'new' new building," joked Dr. Nick Graziano, DDS '66, "the new downtown campus looks unbelievable. When we were there, it was just a small old space."
Dr. Graziano clarified that despite studying in more modest surroundings, he loved his experience at SOD. This affection for the grittier dental school experience in the mid-20th century was shared by Dr. Ed Kelly, DDS '56, who noted that the number of root canals, gold foils, gold inlays, crowns and bridges required from students during his time was overwhelming.
"It was bedlam when I studied here," he said, laughing, "but we always had the best teachers."
Alums and their families got a first-hand look at the latest SOD technological offerings during the Ice Cream Social and Tour on Saturday, June 4th. The Dream Room and Simulation labs proved to be popular with the young children, while graduates expressed admiration toward the new facilities, even if they were a little nostalgic for
‌their old stomping grounds:
"The new facility is certainly going to better prepare the students for practicing in the modern world," said Gloria Enzor '96, adding that she still had affection for the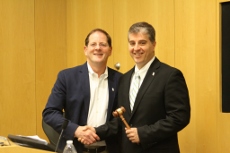 "bricks and mortar" of her old building.
On June 5th, the alumni board of directors gathered for the annual meeting. Dr. Ali Behnia, DMD ENDO '98 assumed the position of board President from Dr. Bradley Trattner, DDS '88, through the ceremonial passing of the gavel. In addition, Katy Battani, RDH '08, Dr. Justin Kleinman, DDS '02, and Dr. Nadim Koski, DDS '02 joined the board.
"I'm honored to take this role and help advance the mission of UMSOD," said Behnia.