Norbert Myslinski, associate professor, Department of Neural and Pain Sciences; and Hening Ren, assistant professor in the Department of Oncology and Diagnostic Sciences; are the recipients of a $675,000 grant over five years from the National Institute of Dental and Craniofacial Research to launch a new University of Maryland School of Dentistry (UMSOD) summer program aimed at developing future researchers and educators with a passion for and knowledge of dental and oral health research and care.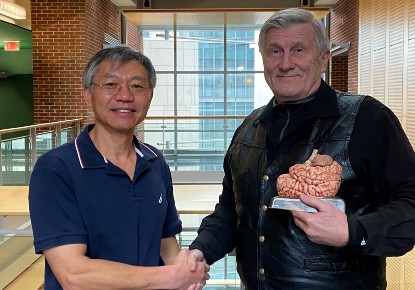 Called the Maryland Program in Dental Research Experience -- or D-REX-- the initiative will provide hands-on laboratory experiences to high school and college students, particularly those from underrepresented populations; as well as high school teachers who either come from or teach in schools serving underrepresented populations. Co-directed by Myslinski and Ren, the nine-week program will offer training in lab techniques and seminars on topics such as scientific methodology and career opportunities in the biomedical sciences.
Creating an ever-widening network of youths and educators who are excited about research, particularly in the dental and craniofacial field is critical to future innovation, Ren said. "Our goal is two-fold: Building mentoring relationships for the students that inspire them to pursue oral health professions and enabling high school science teachers to learn new methods and ideas so they take them back to the classrooms and effect a much larger group than we can working one-on-one with students."
Myslinski and Ren plan to enroll five high school students, five undergraduate students, and two high school teachers drawn from throughout the Baltimore region in the first cohort, which will be launched in June 2023. Each participant will be paired with a mentor who has been recruited from UMSOD's research faculty.
"By providing these student experiences, we aim to develop future leaders in research who will find a cure for oral facial disorders and make other biomedical innovations," Myslinski said. "And to shape the future of the dental profession, we want the best and the brightest!"
Noting that the development of new pathways for students who are interested in the oral health professions is a priority for the School of Dentistry, Mark A. Reynolds, DDS, PhD, UMSOD dean and professor, said, "I am pleased that we are able to launch this exciting new program. I look forward to welcoming the students and teachers to our school and helping them gain knowledge and skills that will enhance their success in classrooms, colleges, and beyond."
The D-Rex program will dovetail well with UMSOD's existing summer programs, said Man-Kyo Chung, DMD, PhD, professor in the Department of Neural and Pain Sciences and UMSOD's assistant dean of research and graduate studies. "D-REX will be integrated with the ongoing UMSOD Summer Research Training Program for dental students. We anticipate that by experiencing research along with dental students, the D-REX trainees will be further motivated to pursue oral health-related careers."
To recruit top-notch applicants, the co-directors plan to reach out to area schools and community partners, including the University of Maryland, Baltimore's CURE Scholars Program. They also will be in contact the International Brain Bee (IBB), a global educational and outreach nonprofit that aims to inspire youths to pursue careers in neuroscience, said Myslinski, who in 1998 founded the international competition and continues to sit on its board of directors.
Applicants for the program will be assessed by their grades, interest in science, and previous lab experience. Once the participants have been chosen, "it will be very important to place the right student with the right mentor," he said. "We have to consider the interests and skills of mentors and students — and match them."