Ask someone who likes spicy food why they enjoy it, and you'll get a few answers: the taste, the thrill, perhaps the challenge.
You probably won't hear someone talk about the therapeutic benefits of hot peppers.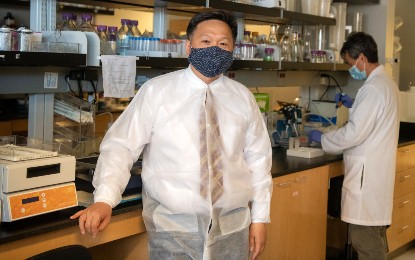 But that might be a more common response in the future, given the long-term research of Man-Kyo Chung, DMD, PhD, professor in the University of Maryland School of Dentistry's (UMSOD) Department of Neural and Pain Sciences and new co-director of the University of Maryland Center to Advance Chronic Pain Research (CACPR).
More specifically, you'll hear talk of how capsaicin — the active ingredient in those chili peppers — can help alleviate chronic oral pain and perhaps even reverse it.
For his distinguished career to date — including research on capsaicin — the National Institute of Dental and Craniofacial Research (NIDCR), part of the National Institutes of Health, awarded Chung an eight-year, $8 million R35 grant for Sustaining Outstanding Achievement in Research (SOAR). The grant, given to mid-career NIDCR-funded individuals, recognizes not just previous research achievements, but also leadership in the oral health field.
"This award is very special because it's not just about the research, and it provides long-term support," Chung says. "An eight-year grant is extraordinary in the research world."
Chung trained first as a dentist in his native South Korea. While he enjoyed the face-to-face interaction of meeting and treating patients, he was drawn repeatedly to one question: What makes patients feel pain?
His inquisitive nature led him to pursue a PhD in physiology, as opposed to seeking specialty training in dentistry.
"I was always more enthusiastic about exploring new things," he says.
During his three-year military service in South Korea, Chung had the time to decide whether he would stay in research or return to the clinical world. Ultimately, he chose the former, opting to become a dentist-scientist. That led him to the United States, and Baltimore in particular. For six years, Chung worked and trained further as a postdoctoral fellow in the Michael Caterina, MD, PhD, lab at Johns Hopkins University.
At Hopkins, he began a career-long interest in capsaicin and how and why it causes a burning sensation in humans.
"Capsaicin has a very specific receptor in the mammalian brain," Chung says. "Without that receptor, you don't feel the burning sensation you associate with spicy food."
He notes that people around the world have used capsaicin to treat pain for centuries, but no one really knows how it works.
Because of that, Chung "became fascinated by this molecule," as he puts it. "As a basic scientist, I wanted to know why it relieves pain. That really motivated me."
That motivation brough him to UMSOD, where he's operated a laboratory for the past 12 years. His research at the school found that, when tested on mice, a one-time topical application of capsaicin could provide weeks-long relief from chronic pain.
That's promising because current drugs targeting chronic oral health pain often have severe side effects. Capsaicin does not.
"Current therapeutics target the brain," Chung says. "That's the main problem of current therapy — the side effects that result. Capsaicin offers a promising alternative."
It appears that capsaicin may not only provide relief from pain, but treat it, as well. As pain becomes more chronic, Chung says, "There is consensus that the brain network changes over time."
But topical capsaicin, according to preliminary research, may reverse those changes in the brain and thus serve as disease-modifying treatment.
Chung is collaborating with two UMSOD colleagues — David A. Seminowicz, PhD, associate professor, and Feng Wei, PhD, MD, professor, both also from Neural and Pain Sciences — to explore this further. Using the brain imaging lab of Seminowicz and the pain research expertise of Wei, Chung hopes to unlock the possibly revolutionary benefits of capsaicin.
That's only half of the SOAR grant, however. The other part supports research into bone resorption as a result of periodontitis, or gum disease.
"Over years or decades, due to periodontitis, the bone around the tooth melts down. The tooth begins to move and has to be extracted," Chung says. "Forty percent of adults in the United States have periodontitis."
His research focuses on the pain-sensing neuron, or nociceptor, that regulates the immune response and bone remodeling in the oral cavity. Chung's aim is twofold: Determining how the pain-sensing nerve leads to the development of chronic pain, and how it relates to bone resorption.
"We found that the sensory nerve plays a role in orthodontic tooth movement," Chung says. "It regulates the biological process controlling bone remodeling."
So, Chung says, "by manipulating that sensory nerve, we can delay that resorption."
These two very different research topics — capsaicin and bone remodeling — highlight one main benefit of the SOAR grant.
"The grant gives me a lot of room," Chung says. "It's very flexible, allowing different types of projects."
That diversity of study will serve him well with CACPR, too, alongside fellow co-director Susan G. Dorsey, PhD, RN, FAAN, professor and chair of the Department of Pain and Translational Symptom Science at the University of Maryland School of Nursing. Chung will pick up where his predecessor, the late Joel D. Greenspan, PhD, former professor and chair of Neural and Pain Sciences at UMSOD, left off.
Chung, a longtime member of the organization that unites pain researchers from all across the University of Maryland, Baltimore (UMB) campus — the first Universitywide research center, in fact — speaks highly of CACPR and its transformational research.
"CACPR has cultivated a collaborative environment not only for basic and translational pain research, but also for pain-related policy and overall care of pain patients," he says. "I aim to continue Dr. Greenspan's legacy of advancing chronic pain research throughout UMB."
Mark A. Reynolds, DDS '86, PhD, dean of UMSOD, has no doubt that Chung will do just that.
"Given his strong record in research, as evidenced by the SOAR grant — just another in a long line of National Institutes of Health funding — Dr. Chung will be an exemplary co-director and continue CACPR's long tradition of approaching chronic pain from a broad, multidisciplinary perspective," Reynolds says.
"Dr. Chung's own superlative research at UMSOD shows the importance of looking at chronic pain from all angles."
Although he's got a lot on his plate — and not just chili peppers, of course — Chung welcomes the challenges that come with his work. After all, he's still motivated by that singular word: Why?
"I'm in research to discover new things," he says. "And I'm grateful UMSOD has given me a place to do that."
This article first appeared in Mdental magazine.