From Jan. 31 to Feb. 2, the College of Diplomates (COD) of the American Board of Endodontics held its 10th annual Board Review Course and Scientific Update in Baltimore.
Hosted by the University of Maryland School of Dentistry (UMSOD) and organized by Clinical Associate Professor Priya Chand, BDS, MSD, who is president-elect of the COD, alongside COD President Colleen Shull and Executive Secretary Aimee Rylko, the event had its highest-ever attendance at more than 200 participants.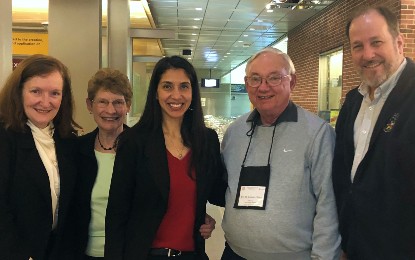 "We saw this as a great opportunity to showcase the school, its facilities, and the [Dr. Samuel D. Harris] National Museum of Dentistry," said Chand, who is program director and interim division director of endodontics in the Department of Advanced Oral Sciences and Therapeutics at UMSOD.
The COD aims to serve those seeking board certification and recertification by providing mentoring and educational opportunities for candidates hoping to achieve the highest level of recognition in the specialty. Among its founders was M. Lamar Hicks, DDS, MS, FACD, FICD, FIADT, a member of the Dean's Faculty at UMSOD.
Prior to the event, a mock oral exam was held for 20 candidates scheduled to take the board certification exam in March. Twelve examiners were selected from across the country to conduct the mock examinations. Spearheaded by Chand, who also serves as chair of mentoring for the COD, it was the first time the organization held a full simulation.
It allowed participants "to get a real-life experience on the hot seat," she said. "They could then gear their knowledge base toward a better understanding of the structure of the exam and the critical approach expected of the exam."
"Additionally, real-time feedback was provided to each candidate," Chand added.
The board review course provided candidates and other attendees with the most up-to-date endodontics information. The UMSOD was represented there with Jeffery Price, DDS, MS, clinical professor and director of oral radiology in the Department of Oncology and Diagnostic Sciences, lecturing on endodontic radiology.
Other courses included such topics as risk assessment of the medically compromised patient, regenerative endodontics, endodontic surgery, inflammation and immunology, pain mechanisms, endodontic microbiology, and trauma and resorption, among others.
Mark A. Reynolds, DDS, PhD, dean of the UMSOD, provided opening remarks on Friday.
"This was an occasion to welcome the College of Diplomates to our city and applaud those who have demonstrated a commitment to specialty knowledge, lifelong learning, and elevating patient care," said Reynolds.
For Chand, who takes the reins of the COD in April, the event was a success not just in terms of attendance, but in furthering the organization's mission.
"Through mentorship and programs such as the mock oral exams and board review courses, we can ensure one calibrated standard of care," she noted.