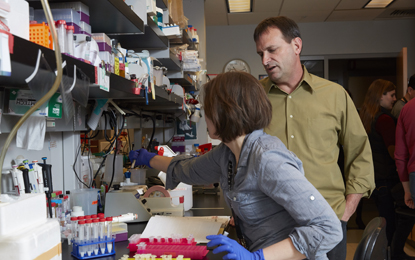 Professor Robert K. Ernst, PhD, of the University of Maryland School of Dentistry (UMSOD) was awarded a five-year, $6.4 million contract from the National Institutes of Health's National Institute of Allergy and Infectious Diseases (NIAID) to develop and test new adjuvants in his laboratory for use in future vaccines. An adjuvant is added to a vaccine to, as NIAID notes, "enhance its ability to induce protection against infection."
As program director, Ernst, who is also vice chair of the Department of Microbial Pathogenesis, will collaborate with researchers from the University of Kansas as well as two industry consultants. Using bacterial enzymatic combinatorial chemistry (BECC), they have produced a number of potential adjuvants that will be evaluated with protein antigens from Y. pestis, the causative agent of the plague, and Shigella, which causes shigellosis. The new adjuvants will be evaluated for both antigen- and dose-sparing capabilities, which could result in decreased cost and improved compliance.
Across the globe, infectious diseases are a leading cause of death, particularly in low-income nations, and Ernst notes that next-generation vaccines are urgently needed.
"This will represent a significant advance in vaccine development," Ernst says. "High-efficacy adjuvants, when formulated in component vaccines, can be used to combat the global health burden of a wide range of human pathogens."
"For novel vaccines to be developed," he continues, "it is critical that high-quality antigenic targets are identified and used in combination with current or novel adjuvants to increase their immunogenic capacities, such as decreasing the amount of antigen or number of doses required to elicit a strong long-term protective immune response."
"By producing a new generation of adjuvants that enhance the ability of vaccines to induce protective immunity, the research that Dr. Ernst and his collaborators are pursing has the potential to help millions," says UMSOD Dean Mark A. Reynolds, DDS, PhD. "Improving the effectiveness of vaccines will impact preventable diseases worldwide."