You might recognize D2 student Justin Maxwell from his days as a Major League Baseball player for the Washington Nationals, the Houston Astros, the Kansas City Royals, and the San Francisco Giants.
You might soon recognize his voice, too, as he takes on pre- and postgame announcing duties for four Nationals games to be broadcast on the Mid-Atlantic Sports Network (MASN) from Aug. 31 to Sept. 3.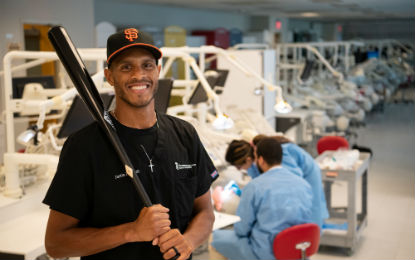 Maxwell, a 2005 graduate of the University of Maryland, College Park, first interviewed for an announcing gig with the sports channel last winter. Producers knew he was a full-time student at the University of Maryland School of Dentistry (UMSOD), but his natural abilities shone through. Though he wasn't the right fit for something long-term, he was the perfect fit for a short stint that will span four games over five days.
"I got an email in June asking if I'd be interested and it's exciting," says the 6-foot-5-inch former outfielder, clearly looking forward to the experience. "It was the first time I'd been in front of a camera aside from playing. But the producers made me feel very much at ease and it's something my wife had encouraged. I'd had other friends make similar transitions so it feels pretty natural. I think it's going to be a lot of fun."
Maxwell will broadcast from inside the MASN studio for the first two games and appear live from the ballpark for the final two. Aside from having to wear a suit, the son of two dentists expects the experience to be a throwback to his days playing ball.
He started as a 5-year-old boy stationed with his parents in Japan with the U.S. Navy and the now-35-year-old retired in 2016 after injuries forced him to the sidelines. He grew up with a bird's eye view of a baseball field in South Carolina, then was wooed by the scouts while still a student at Sherwood High School in Montgomery County, Md. The high-school standout delayed his baseball career to first earn his undergraduate degree, then went on to hit 41 career home runs — including a grand slam for Kansas City in front of a sellout crowd.
His friends' advice as he prepares for the Nationals versus the Miami Marlins and Nationals versus the New York Mets: "'Just be yourself. Talk baseball and have fun doing it.' I think I can do that," he laughs.