contact
Sandra Ringgold
Academic Program Specialist
About the Dental Hygiene BS Degree Completion Program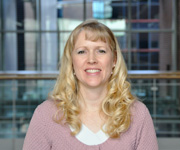 The Dental Hygiene Bachelor of Science (BS) Degree Completion Program is offered at the University of Maryland School of Dentistry, a state of the art dental educational facility located on the campus for health professions and law at the University of Maryland, Baltimore. The program allows dental hygienists holding associate degrees or certificates granted from other accredited U.S. dental hygiene programs to earn a bachelor of science degree in dental hygiene. We have proudly enabled registered dental hygienists to complete their BS degree through the University of Maryland Degree Completion Program since 1971.
Sheryl Syme, RDH, MS
Associate Professor
Director, Degree Completion Program
FEATURES OF THE PROGRAM:
Program for U.S. licensed RDH's seeking baccalaureate education.
Opportunity for accelerated BS to MPH Degrees.
90 transfer credits (includes clinical dental hygiene, general education and basic science courses) completed at a regionally accredited college or university prior to matriculation. Dental Hygiene transfer credits must be completed at a regionally accredited college or university that is also accredited by the Commission on Dental Accreditation. 30 degree completion program credits are then obtained at the University of Maryland.
Total BS Degree requirement is 120 semester credits.
One-Year and Two-Year Tracks.
Health care dynamics and interprofessional education are hallmarks of the program.
The Dental Hygiene Degree Completion Program is located in the nationally recognized University of Maryland School of Dentistry and situated on the University of Maryland Founding Campus featuring health, law, biomedical sciences, and graduate professional schools.
One-on-one advising with the Director of the Degree Completion Program
Faculty with local and national recognition and expertise in the areas of teaching, research and service to community and professional associations.
Curriculum focuses on preparation for future advanced roles of the professional dental hygienist with advanced degrees.
Students choose practicum experiences that match their career goals such as in the areas of teaching, public health, research, administration, or advanced clinical practice.
Utilizes interactive educational and clinical technology and updates current skills, knowledge and awareness of changes in health care delivery.