Oral & Maxillofacial Surgery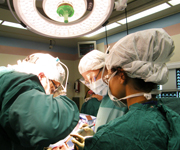 | | |
| --- | --- |
| PASS/MATCH PROGRAM | PASS/MATCH |
| APPLICATION DEADLINE | September 1 |
| NUMBER OF POSITIONS | 3 (one 4-year / two 6-year) |
| LENGTH OF PROGRAM | 4 years / 6 years |
| STIPEND | Available |
The University of Maryland's four-year certificate program is a fully-accredited specialty training experience. In the first year, the trainee spends six months on the OMS service, two months on the internal medicine/cardiology service, and four months with anesthesiology. The trainee also participates in a comprehensive physical diagnosis course beginning in July.
Year two will have the trainee's time divided between clinical oral-maxillofacial surgery and various surgical rotations to include general and trauma surgery, critical care, surgical oncology, and emergency surgery.
The third and fourth year will be spent entirely on the OMS service with the fourth year as chief resident, rotating between the general, trauma, and pathology services.
The University of Maryland's integrated residency - M.D. program is a fully accredited specialty training experience that is six years in length. During the trainee's first year, 10 months are spent in clinical Oral-Maxillofacial Surgery and two months on the anesthesiology service. The trainee also participates in an eight-month-long course in patient evaluation at the medical school.
Residents are required to take and pass Part I of the National Medical Boards prior to being given advanced standing in the medical school. The second and third years are spent in the medical school at the third- and fourth-year levels. Elective months are spent in head and neck pathology, anesthesiology and oculo-plastic surgery. The trainee spends the fourth year of the program as a General Surgery PGY-1 resident.
The fifth and sixth years of the program are spent on the Oral-Maxillofacial Surgery service, with 12 months as Chief Resident. Three months of this period are available for a concentration in research. Rotations to other hospitals and private offices occur to provide additional training in esthetic and orthognathic surgery.
Application requirements: (No application requirement waiver requests will be honored)
PASS Application (Includes but is not limited to Dental School transcript and evaluations)

PASS Evaluations: 2 PEF Evaluations and an Institutional Evaluation
Original copies of your letters must also be submitted to the Office of Admissions


Official National Board Scores

Official NBME/CBSE Scores

Curriculum Vitae

Original Undergraduate School Transcript(s)

Original Dental School Transcript(s)

2x2 Photo

In-State Classification Form (If you would like to be considered for instate tuition)
Additional application requirements for foreign trained dentists only:
Original Course by Course Evaluation of Foreign Transcript

Official TOEFL Scores

A minimum TOEFL Score of at least 550 paper-based, 213 computer based and 100 internet based is required. If you are having the score report sent directly to the University of Maryland, please use code 5944 department 38. If you use International English Language Testing System (IELTS) instead of TOEFL a minimum total score of 7 is required.

Must be a US/Canadian resident to be considered for the OMS/MD program.
Must have US/Canadian undergraduate transcripts to be considered for the OMS/MD program.
Licensing information for internationally trained dentists