contact
Office hours are 8am - 5pm Monday through Friday.
Welcome to the Office of Institutional Advancement
‌
Welcome University of Maryland School of Dentistry graduates and friends. The Office of Institutional Advancement staff is pleased to provide exciting opportunities that aim to enrich you and fellow alumni both professionally and socially. We are here to work with you as graduates and dental professionals.
Learn more about the exciting opportunities to connect with your fellow alums, attend events, and continue your professional development:
Quick Links
Save the Date: 2018 All-Alumni Reunion Will be Held June 8-9.
All-Alumni Reunion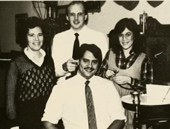 ‌‌
Advancement Staff
‌‌