About the Pediatric Dental Clinic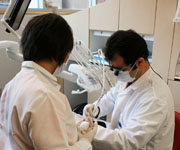 High Quality Dental Services for Children
Nothing is as beautiful as a child's smile. With proper care and regular dental visits, children can reach adulthood with a lovely smile, free of dental disease.
At University of Maryland's Pediatric Dental Clinic, our pediatric dental specialists focus on the oral health and unique dental needs of children up to 18 years of age, including children with special needs.
The Pediatric Dental Clinic provides affordable, comprehensive dental services for children that help:
Improve your child's smile & appearance
Prevent cavities/tooth decay & gum disease
Improve overall oral health
The Pediatric Dental Clinic includes both pre-doctoral and post-doctoral services.
Typically, services in the Pediatric Dental Clinic are provided by third- and fourth-year dental students (pre-doctoral students) under the close supervision of experienced faculty dentists. Patients receive high quality dental care at fees that are significantly lower than private dental practices.
For patients with more complex dental needs, services are provided by post-doctoral residents (dentists who have graduated from dental school and are completing an additional two years of specialty training in pediatric dentistry). Patients receive expert dental care at fees that are higher than the fees for the pre-doctoral services described above, but still lower than the fees charged in private practice.
All services are supervised by expert pediatric dental faculty members.

The University of Maryland School of Dentistry's Pediatric Dental Clinic offers comprehensive dental services for children up to 18 years of age. New pediatric patients will be accepted up to age 15 1/2 (unless there is a special need). For patients over 15 1/2 years of age, please call 410-706-7063 for adult screening.

Dental services for children & adolescents
Dental services for children with special needs
Additional services (e.g., emergency dental care, sedation, & general anesthesia)