Bachelor of Science Program
Applicants for the Dental Hygiene Bachelor of Science program should begin to submit their applications November 1 and no later than February 1 to be considered for admission. The recommended minimum GPA for applicants is 3.0; preference in admission is given to students with high scholastic averages, especially in the sciences. Applications that are submitted or remain incomplete after the deadline will not be considered. A minimum of 16-20 of the 24 science credits MUST be complete at the end of the fall semester PRIOR to the fall you wish to be considered for our program. All pre-requisite courses MUST be complete at the end of the spring semester PRIOR to the fall you wish to be considered for our dental hygiene program.
Courses must be from a USA regionally accredited University or College. The dental hygiene program will accept on a case by case basis general credit by examination in the areas of non-science courses such as sociology, psychology, humanities, social sciences and English. The individual must contact the admissions advisor for the specific program of interest for individual advising and review of coursework. Possibly up to 6-9 credits MAY be acceptable.
Baccalaureate degree-seeking students are also required to observe a registered dental hygienist who is presently working in practice for a minimum of eight hours to increase awareness and knowledge of the profession prior to applying for the Dental Hygiene Program. Please use this form‌ to have your Shadowing Hours documented.
Applications for the Bachelor of Science program are reviewed by the committee on Dental Hygiene Recruitment and Admissions for the following: completeness of application, completion of required courses, GPA of required science courses, overall GPA of required courses, overall academic record (including repeats, failures, withdrawals, etc.), personal statement, professional demeanor, interest and knowledge of the dental hygiene profession, and quality of recommendation letters.
While it is not a program requirement, it is highly recommended that our students purchase loupes for use in the program; the use of loupes is considered state of the art and assists in vision and ergonomics. The cost of loupes is not included in your tuition and fees, therefore, we recommend students budget for such a purpose in the fall of their first year. The approximate cost of loupes for a student is $1500. Vendors regularly visit our school and a vendor night is held annually for purchases such as this.
The University of Maryland Dental Hygiene Program is accredited regionally by the Middle States Commission on Higher Education, 3624 Market Street, Philadelphia, PA 19104, (267) 284-5000 and the Commission on Dental Accreditation, (CODA).
APPLICATION REQUIREMENTS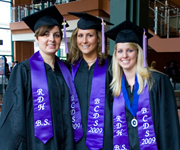 The following application materials should be submitted by February 1:
Signature form (at end of electronic application)
$80.00 Application Fee, made payable to the University of Maryland
Official transcripts must be received from each college or university attended. Foreign transcripts must be evaluated by WES or ECE. DO NOT OPEN THE SEALED ENVELOPES or the transcripts will not be official and new ones will be needed. If you are enrolled in school during the fall semester, request another transcript after fall grades have been included.
Two Letters of Recommendation
One recommendation letter must be from a college-level science teacher and another from a dental hygienist or dentist. Letters should be addressed to the Committee on Dental Hygiene Recruitment and Admissions. Each letter should be placed in a sealed envelope with the referrer's signature across the closure and submitted with the application. Please use the downloadable supplemental form for your letters. Letters of recommendation must be from non-family members. Members of the Dental Hygiene faculty at the University of Maryland CANNOT write letters of recommendation. You may wish to submit another recommendation from an employer for a total of three (3) letters of recommendation.‌
International Students
Applicants must submit completed applications and all supporting documents, by November 15.
Foreign documents must be certified official and be submitted in sealed envelopes from the institution issuing them. If the documents are not in English, they must include an English translation.
WES www.wes.org or ECE www.ece.org evaluations are required. Ask for a course by course evaluation.
Only courses equivalent in U.S. course names, U.S. letter grades and U.S. semester hours from the Phase I Preprofessional Curriculum categories of inorganic chemistry(also known as general chemistry), organic chemistry, basic statistics, social sciences, lower level elective and humanity elective if taken will be considered.

At minimum, the remaining Phase I Preprofessional Curriculum courses in General Biology w/lab, Anatomy & Physiology I & II with labs, Microbiology with lab, Principles of Nutrition, English composition, Introduction to Psychology, Introduction to Sociology and Public Speaking must be completed at a U.S. accredited college or university prior to applying to the University of Maryland Dental School for the Phase II Professional Dental Hygiene Curriculum.
Please see http://www.umaryland.edu/ois for rules and regulations regarding international students.
Applicants born outside the U.S. and who have never attended a U.S. college or university must demonstrate English language proficiency. Test of English as a Foreign Language (TOEFL) is required. Results should be sent to the Office of Admissions and Student Affairs. The code number is 5848.
TOEFL scores must be between 80-85 iBT (internet based test), 550 paper based or 213 computer based to be considered for the dental hygiene program here at the University of Maryland Baltimore.