Dentistry Today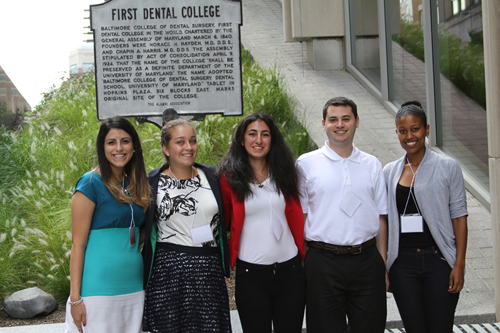 Dentistry Today is a program designed for college students in their first, second or third year who are considering dentistry as a career. The program allows participants to learn about the dental profession, dental education, dental specialties and the wide range of career options available within dentistry. Topics include pediatric dentistry, endodontics, orthodontics, geriatric dentistry, periodontics and oral surgery.

This is an excellent opportunity for students to learn more about the profession and the many career options available in the field of dentistry. Participants will receive a tour of the dental school, UMB campus and have an opportunity to interact with dental students in the classroom and clinical environments.

This year, Dentistry Today will be held Tuesday, June 13 through Thursday, June 15, 2017. The daily schedule will run from 9 a.m. – 5 p.m. All participants will be responsible for their food, transportation, parking and lodging expenses.
Please return the completed Registration Form, Statement of Permission and $30 administrative fee no later than Wednesday, May 24 to the address listed below. The administrative fee must in the form of a check or money order made payable to the University of Maryland, Baltimore (UMB). If accepted into the program you will be notified soon after the deadline date. All forms must be received by our office by the deadline for your application to be complete. Proof of insurance coverage is a requirement for participation in the program.

We look forward to receiving your application.

Thank you,
The Office of Admissions
---
‌
Mailing Address:
University of Maryland School of Dentistry
Office of Admissions
650 W. Baltimore St.
Dean's Suite 6-S, Room 6410
Baltimore, MD 21201
Fax: 410-706-0945