Postgraduate Program in Pediatric Dentistry
‌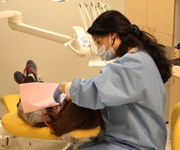 The Postgraduate Program in Pediatric Dentistry is designed to prepare the student for a career in patient care in a private practice or a hospital setting. The student is expected to develop clinical skills in treating normal and handicapped children, as well as to function effectively in the hospital environment treating patients with complex medical problems. This program combined with a master's or doctorate is intended for the clinician who wishes to pursue a career as a teacher/researcher and emphasizes scientific methodology together with research experience to develop skills required for independent research. Upon successful completion of all requirements, the student is awarded a Certificate in Pediatric Dentistry and meets the advanced education eligibility requirements of the American Board of Pediatric Dentistry.
Postdoctoral students can seek simultaneous enrollment in the program combined with a master of science or doctor of philosophy degree programs. In addition to the requirements for the postdoctoral program, the successful completion of a thesis and specific course work are required for graduation. The student is awarded a certificate in pediatric dentistry and either a MS or PhD degree at the successful conclusion of the program.
Program Length and Number of Positions
This is a 24-month certificate program commencing July 1 of each fiscal year. Five new positions are offered each year.
Program Type
University-based certificate with option for a master of science or doctor of philosophy.
Curriculum
The Postgraduate Program in Pediatric Dentistry is based primarily at the University of Maryland School of Dentistry on the campus of the health sciences center of the University of Maryland, Baltimore. The academic course work occupies approximately 20 percent of the postdoctoral students' time and includes: case conferences, research methods, orthodontic diagnosis, laboratory technique, literature review, oral pathology, general anesthesia rotation, pediatrics rotation and applied teaching. Each postdoctoral student is required to submit a research paper suitable for publication and prepare three documented cases similar to those previously required for board certification.
Facilities
University of Maryland School of Dentistry
University of Maryland School of Dentistry, Perryville
James Lawrence Kernan Hospital
University of Maryland Medical Center
Johns Hopkins Hospital
Program Strengths
Strong didactic program, especially in orthodontics, with flexibility to accommodate diverse professional goals
Evidence-based, patient-centered care in both in- and out-patient settings with normal, developmentally disabled and medically compromised preschool and school-aged patients
Emphasis is placed on leadership for private practice, hospital or academic careers
Well-qualified and diverse full- and part-time faculty
Program Stipend and Tuition
Stipends are $18,098 first year and $22,568 second year
Clinic Experience
Orthodontics
Conscious sedation
Hospital rotations
Anesthesia
Emergency call
Operating room
IV/IM and oral conscious sedation
Oral surgery
Infant oral health
Medically compromised
Mentally disabled
Craniofacial disorders
Physically disabled
Didactic Experience
Seminars
Literature review
Postgraduate level courses
Case conferences
Research Requirement
Thesis / data collection project
Teaching Experience
Yes clinic half-days
Yes lecture/presentations
Facilities
24 chair/operatories (Baltimore)
26 chair operatories (Perryville)
3 clinic receptionist
4 dental assistants (Baltimore)
3 dental assistants (Perryville)
0 dental hygienists
Additional Resources