contact
For Patients
Phone: 410-706-7803


For Students
Contact: Lisa McQuaige
Email: lmcquaige@umaryland.edu
Phone: 410-555-1213
Fax: 410-555-1214
Departmental Awards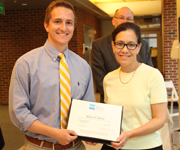 The American Association of Orthodontists Award
The American Association of Orthodontists Award is a certificate given to the student who demonstrates exceptional interest in the development of the oro-facial complex. The 2014 recipient was Andrew Pedersen.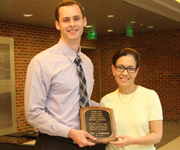 The Harry E. Kelsey Award
The Harry E. Kelsey Award is given in honor of Dr. Harry E. Kelsey, the first orthodontist to practice in the state of Maryland. Endowed by former associates of Dr. Kelsey, Drs. Anderson, Devlin, Hodges, Johnston and Preis, the award is a plaque given in recognition of the intangible qualities such as idealism, patience, kindness and related attributes which best portray a truly professional person. The 2014 recipient was Eric Orbison.