Sponsoring a Brain Bee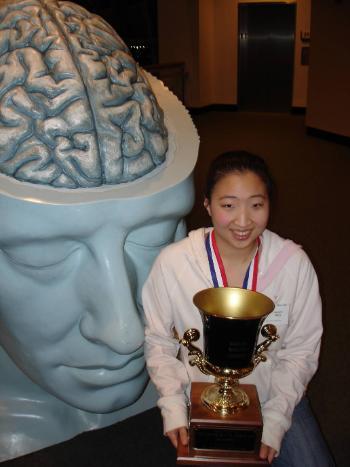 Sponsoring any program for high school students is a rewarding experience - this age group is well-known for the excitement and passion that they bring to extra-curricular activities. Sponsoring the International Brain Bee has an added bonus, however, since the teens participating in this program today may be the leaders in medicine and medical research in the future. Our IBB champions work with top researchers worldwide, many of whom are actively seeking cures for diseases like Alzheimer's, Huntington's and all types of addiction.
There are several ways to support the International Brain Bee competition. Many groups and individuals choose to support the Bee financially, offering funds that off-set the cost of travel & lodging for the competitors and the cost of the Bees themselves. Others choose to offer resources to individual Brain Bees - food & drink donations to any Bee are greatly appreciated, as are donations of items to be used as prizes. For specific ideas on how to support the Brain Bee program, please see our partnership opportunities list below!
International Brain Bee Partnership Opportunities
Volunteering: To create a local Brain Bee in your community or to volunteer to help contact your national coordinator or Dr. Norbert Myslinski at brainbee@gmail.com
Eleven International Brain Bee Partnership Opportunities
There are 3 levels to the competition: Local, National, and International. To help on the local and national levels, also contact your local or national coordinators.The opportunities listed below are for the international level. Partners will be acknowledged where possible (WebSite, Programs, Posters and social sites)

1. Naming Opportunities:
International Competition $500,000
International Trophy $50,000


2. Providing Travel Fellowships to the IBB Championship $6,000
You can help your national brain bee winner and chaperone travel to the International Brain Bee Championship to represent your country.

3. Providing Local and National Fellowships to Brain Bee Chapters that are in need $2,000
You can specifiy which local or national Brain Bee you would like to support.
4. Provide a scholarship to a needy brain disordered patient $500
Each IBB competitor will also be an advocate for a patient of their choice with a brain disorder.
If the competitor wins, the patient receives a $500 scholarship.
5. Awarding Prize Money for first, second and third place:
International: 3,000, $2,000, $1,000
6. Donating Funds
Creativity Level $20,000 and above Movement Level $50 – $200
Intelligence Level $2,000 – $20,000 Sensation Level $20 – $50
Emotions Level $500 – $2,000 Awareness Level $10 - $20
Communications Level $200 – $500

7. Purchasing Questions
Purchasing one or more questions in your neuroscience area of interest to be used in the Local, National or International Competitions:
One Question: $300
8. Buying Ads on the IBB Website $1,000
9. Donating Items: Any items suitable as prizes will be greatly appreciated.
10. Linking from your Web Site: A link from your web site to ours would help both.
11. Reporting about Brain Bee activities in your Newspaper, Radio or Television Program
Donations payable to The UMB Foundation, Inc., Earmark: Brain Bee. We are a 501(C)(3) Foundation: #31-1678679
Send check to:

Dr. Norbert Myslinski
Associate Professor,
University of Maryland, 8th Floor
650 West Baltimore Street
Baltimore, MD 21201

Work: 410-418-8982
nmyslinski@umaryland.edu