contact
Judy Pennington
Administrative Coordinator
Dr. Enwonwu Biography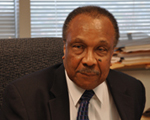 Professor Cyril O. Enwonwu received his dental degree (BDS) from Bristol University in England, followed by the higher dental degree (MDS) and a PhD in the Medical Sciences from the same British institution. He subsequently received his Doctor of Science degree (Sc.D) in Nutritional Biochemistry and Metabolism from the Massachusetts Institute of Technology, Cambridge, Massachusetts.
Cyril Enwonwu's previous positions included research professor, University of Washington, Seattle; professor/chairman of medical biochemistry, University of Nigeria; deputy vice-chancellor, University of Nigeria; director, Nigerian National Institute for Medical Research, Lagos, Nigeria; director, Center for Nutritional Sciences, Meharry Medical College, Tenn.
He is a member of the American Societies of Biochemistry & Molecular Biology; Investigative Pathology; and Nutritional Sciences,among many others. His national and international services in recent years include: 1) Membership of the Board of Scientific Counsellors of NIDR/NIH, Bethesda (1988-1993); 2) Membership of several WHO Expert Advisory Panels/Committees on Oral Health (1975 – present); 3) Founding Chairman of the International Governing Board, Noma Children Hospital, Nigeria (1999-2004); 4) Chairman, Advisory Board of the WHO Regional Center for Oral Health, Jos (1996–2004 ); etc.
Dr. Enwonwu is presently a professor in the Departments of Microbial Pathogenesis and Oncology & Diagnostic Sciences, as well as director of international research initiatives, School of Dentistry and adjunct professor of Biochemistry and Molecular Biology, School of Medicine.
Recent Honors:
Selected as a Research Ambassador for Global Health (One of 25 selected nationally) in 2009.
Invited by UpToDate Infectious Diseases Editorial Board (

www.uptodate.com

) to prepare an educational program on NOMA for physicians. The report is in press (2009).
Invited by Chief of Oral Health Division, WHO, Geneva to prepare a report titled "Periodontal Disease, Systemic Health, Infectious Diseases in Developing Countries" for publication in Periodontology 2000 (Manuscript in press, 2009).
First World Conference on NOMA. Keynote Speaker and Co-chaired the Scientific Committee, Geneva, Switzerland, May 2008.
Received the Year 2008 NDA/Colgate – Palmolive Company, Faculty Recognition Award in Research, Detroit, MI, July 2008.