Student Technology Center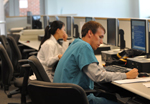 The School of Dentistry's Student Technology Center (STC) is available for use by students for independent study, scanning documents, access to the Internet, e-mail and various campus databases.
The STC is located on the 5th floor of the School of Dentistry, room 5250, adjacent to the central atrium. The STC has a total of 10 computers with access to Axium and MiPACS; telephones for contacting patients; 1 laser printer available for student use; 2 scanners for flat copy or radiographs; ethernet ports for use with laptops requiring a wired connection; and comfortable lounge chairs adjacent to ports.
Students are able to print documents in the STC via the GoPrint Pay-Per-Print system. The cost is $.10 per page for black/white copies and $.25 per page for color copies. The GoPrint system is fully cashless and uses the UMB OneCard system for payments.
For technical support with student laptops as well as all resources available in the STC questions and issues can be brought directly to the IT staff office located in room G426. Staff is generally available from 8 a.m. to 5 p.m., Monday through Friday, except when the School of Dentistry or the University is closed. If staff is not available in the STC, any questions or problems may be directed to the IT Help Desk located on the ground floor, room G426, by e-mail to dshelp@umaryland.edu or by phone at 410-706-2084.
The STC is open 24 hours a day, 7 days a week, and uses card access.
Resources available
Staff assistance with student laptops
10 computers (with Axium and MiPACS)
Telephones
Printing services
Scanners
Wired network ports
Lounge area
24/7 availability via card access
Student Laptop Assistance
Available 8 a.m. - 5 p.m., Monday-Friday
IT Help Desk (Office G-426)
Contact: dshelp@umaryland.edu or 410-706-2084