About the Program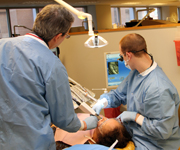 Advanced Education in General Dentistry at the University of Maryland is comprised of two programs -- the one-year course and the two-year AEGD certificate/Master's/Ph.D. degree option. The one-year Advanced General Dentistry Program is designed to improve and refine residents' scientific knowledge and clinical skills in the practice of general dentistry. It prepares the resident to assess the patient's general health status relative to anticipated dental treatment and to plan and deliver that treatment. Where specialist care is required, the generalist learns to serve as the principal coordinator. Didactic and clinical training and experience in patient, personnel and practice management is emphasized. The clinical experience includes a broad range of clinical cases and is designed to match each resident's specific needs and interests. In addition, the clinical facility is organized as a simulated private group practice, facilitating residents' opportunities to acquire skills necessary for managing a group practice.
The two-year AEGD program incorporates all the goals and objectives of the one-year program and is designed to expand the residents' educational opportunities for:
gaining experience in managing highly complex comprehensive dental care;
improving clinical management skills;
pursuing areas of individual concentration (e.g.: temporomandibular disorders, cranial/facial pain, public health dentistry, special patient care)
providing residents with an interdisciplinary graduate foundation in the biological and clinical sciences for careers in dental research and/or education, and the practice of dentistry;
gaining teaching experience, performing original research and earning a Master of Science degree in Oral Biology or a Ph.D. in an area of specialization within the school of dentistry's Oral and Craniofacial Biological Sciences Department (The degree programs usually take three or four years to complete).
The overall mission of the one-year program is to facilitate the transition from the predoctoral dental setting into general practice through advanced didactic training and clinical experience in a simulated group general practice environment. The mission of the degree program is to train dentists for careers in education and/or research.
The University of Maryland AEGD Program is presented in a state of the art setting that includes:
a new 38 operatory clinic
a fully computerized dental office management system
an automated Central Materials System providing all necessary sterile packs and instruments
a CO2 laser
digital radiography
a computerized esthetic dentistry system
The AEGD program has a strong patient base, with patient visits totalling 23,000 in 1994-95. Patients present challenging and complex treatment needs including:
full mouth reconstruction
comprehensive dentistry
tissue regeneration (grafts and Gortex)
implants
precision attachments
TMD
surgery (periodontics, endodontics, oral-maxillofacial surgery)
esthetics
An active research program is a vital feature of the AEGD Program. Research projects include clinical, laboratory and basic science studies allowing access to the latest techniques and dental materials (some pre-market).
Located in a full service dental school (which includes clinical and basic sciences), experienced general dentistry faculty and specialists specifically assigned to the AEGD Program are available as resources for the resident. There is an in-house dental laboratory to assist the resident, while most work is accomplished by a high quality commercial lab.
The didactic portion of the program consists of a comprehensive seminar series stressing literature review. All aspects of clinical dentistry and practice management are covered. A lunch and learn series offers exposure to product information from representatives of dental manufacturing companies. The degree programs offer formal courses in the basic sciences and research methodology.
Drawing from a large, international applicant pool, Maryland's AEGD program assembles an outstanding and diverse class each year. With approximately 20 residents, the congenial atmosphere of the AEGD program at the University of Maryland attracts and provides the best that dental education has to offer.