Basic Ultramicrotomy Minicourse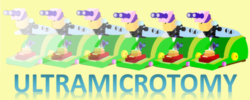 Date: September 21-22, 2017
Location: University of Maryland Baltimore, Electron Microscopy Core Imaging Facility (EMCIF)
Instructor and demonstrator: : EMCIF Director (Dr. Ru-ching Hsia) and staff
Scope of aims: To promote the knowledge and skills of basic ultramicrotomy techniques.
Targeted participants: Individuals who wish to learn basic ultramicrotomy of resin embedded biological specimen. No experience required
Format: Lecture, demonstration and hands-on practice
Techniques covered: Trimming, semithick sectioning, Ultrathin sectioning and trouble shooting
Instrumentation: Ultramicrotome (Leica UC6 and UC7)
---
Agenda_BasicUltramicrotomy_2017
---
Registration Fee: $500
Participants: maximum 6‌
All spaces are filled. Registration is closed
An invoice with payment instruction will be e-mailed to you within five business day upon receipt of registration.
A list of nearby hotels that offer special rate for UMB guests is available upon request, please contact EMCIF.
---
Payment Method: Registration fee can be paid by check or credit card. Follow the instruction on the invoice.
---
Inquiry: Email coreimaging@umaryland.edu
---