Director: Dr. Ru-ching Hsia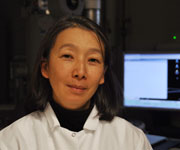 Dr. Ru-ching Hsia holds a PhD in Microbiology and Immunology from Stanford University. She has conducted research related to microbial pathogenesis for over 20 years and worked at the Pasteur Institute in France and the London School of Hygiene and Tropical Medicine in England. She is an Associate Professor in the Department of Neural and Pain Sciences of the School of Dentistry and Adjunct Associate Professor in the Department of Microbiology and Immunology of the School of Medicine. Dr. Hsia took the post as the Director of the Core Imaging Facility in 2005 where she oversaw the purchase of two electron microscopes and a reorganization of the facility's research and services. In 2011, the Core Imaging Facility under the leadership of Dr. Hsia was awarded a S10 shared instrument grant from the National Institute of Health for the purchase of five cryo electron microscopy sample preparation instruments and a cryo Transmission Electron Microscopy upgrade. Dr. Hsia's major research interests are the ultrastructural analysis of chlamydial surface proteins including components of the chlamydial type three secretion system. Her active research collaborations also involve ultrastructural analyses of lipid droplets and mitochondrial interactions.
CONTACT INFORMATION
Dr. Ru-ching Hsia, PhD
Room 696B, Howard Hall, 660 W. Redwood Street, Baltimore, Maryland 21201
Telephone: 410-706-7992, Fax: 410-706-0193
SELECTED PUBLICATIONS
Crane, D. D., J. H. Carlson, E. R. Fischer, P. Bavoil, R. C. Hsia, C. Tan, C. C. Kuo, and H. D. Caldwell. 2006. Chlamydia trachomatis polymorphic membrane protein D is a species-common pan-neutralizing antigen. Proc Natl Acad Sci U S A 103:1894-9.
Mukhopadhyay, S., A. Akmal, A. C. Stewart, R. C. Hsia, and T. D. Read. 2009. Identification of Bacillus anthracis spore component antigens conserved across diverse Bacillus cereus sensu lato strains. Mol Cell Proteomics 8:1174-91.
Tan, C., R. C. Hsia, H. Shou, J. A. Carrasco, R. G. Rank, and P. M. Bavoil. Variable expression of surface-exposed polymorphic membrane proteins in in vitro-grown Chlamydia trachomatis. Cell Microbiol 12:174-87.
Tan, C., R. C. Hsia, H. Shou, C. L. Haggerty, R. B. Ness, C. A. Gaydos, D. Dean, A. M. Scurlock, D. P. Wilson, and P. M. Bavoil. 2009. Chlamydia trachomatis-infected patients display variable antibody profiles against the nine-member polymorphic membrane protein family. Infect Immun 77:3218-26.
Carrasco, J.A., C. Tan, R.G. Rank, R.-c. Hsia, and P.M. Bavoil. 2011. Altered developmental expression of polymorphic membrane proteins in stress-induced in vitro persistent Chlamydia trachomatis. Cellul. Microbiol., July; 13(7): 1014–1025.
Hovis KM, Mojica S, McDermott JE, Pedersen L, Simhi C, Rank RG, Myers GS, Ravel J, Hsia RC, Bavoil PM. 2013. Genus-optimized strategy for the identification of chlamydial type III secretion substrates. Pathog Dis. 2013 Dec;69(3):213-22.
Vorimore F, Hsia RC, Huot-Creasy H, Bastian S, Deruyter L, Passet A, Sachse K, Bavoil P, Myers G, Laroucau K. 2013 Isolation of a New Chlamydia species from the Feral Sacred Ibis (Threskiornis aethiopicus): Chlamydia ibidis. PLoS One. 2013 Sep 20;8(9):e74823.