contact
Office hours are 8am - 5pm Monday through Friday.
Alumnus of the Year Distinguished Achievement Award
Jon B. Suzuki, DDS '82, PhD, MBA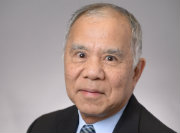 ‌
This award honors an alumnus for significant professional accomplishments in science, dentistry, or education. In its inaugural year, the award recognizes Jon B. Suzuki for his exceptional achievements in and contributions to the oral health field.
A member of the University of Maryland School of Dentistry Dean's Faculty, Suzuki serves as chair of the Food and Drug Administration Dental Products Panel as well as professor of microbiology and immunology in the School of Medicine and professor of periodontology and oral implantology at Temple University.
Suzuki received his DDS from Loyola University of Chicago and PhD in microbiology from the Illinois Institute of Technology. He completed a National Institutes of Health fellowship in immunology at the University of Washington in Seattle, a clinical certificate in periodontics at the University of Maryland School of Dentistry, and an MBA at the Katz Graduate School of Business of the University of Pittsburgh.
Suzuki, who has a hospital appointment at Temple Episcopal Hospital in Philadelphia, is on the faculty of the U.S. Walter Reed National Medical Center in Bethesda, Md. He is past chair of the American Dental Association Council on Scientific Affairs and is an ADA consultant on the Scientific Council, Dental Practice Council, and the Commission on Dental Accreditation, Chicago.
Suzuki's past appointments include chair and director of graduate periodontology and oral implantology and associate dean for graduate education at Temple University. He also served as dean, chief of hospital dentistry, and chief executive officer of the Faculty Practice Plan at the University of Pittsburgh.
Suzuki is a diplomate of the American Board of Periodontology, diplomate and board examiner of the International Congress of Oral Implantologists, and a specialist microbiologist of the National Registry of Medical Microbiology.
He has published more than 200 papers, chapters and symposia, in addition to a textbook on medical technology. He serves as executive secretary/treasurer of the Supreme Chapter of Omicron Kappa Upsilon, the National Honorary Dental Society.
His honors include "Alumnus of the Year" at Loyola University of Chicago and "Faculty of the Year" at the University of Maryland. He also won first place in the Orban Prize Graduate Research Competition of the American Academy of Periodontology and in the ADA SCADA Research Clinic Competition.