contact
Office hours are 8am - 5pm Monday through Friday.
2017 Alumnus of the Year Distinguished Public Service Award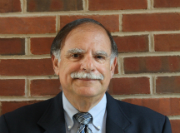 Barry L. Cohan, DDS '74, '76
This award recognizes meritorious professional leadership and service to the University of Maryland School of Dentistry and the community. In its inaugural year, the award honors Barry L. Cohan, DDS '74, '76 for his leadership, service, and contributions to the oral health field, the University of Maryland School of Dentistry, and the residents of Maryland.
Cohan graduated in 1974 from the School of Dentistry and two years later received a certificate in pediatric dentistry. He also completed a fellowship in the department of surgery at the John F. Kennedy Institute of the Johns Hopkins Hospital and a two-year program in facial pain and temporomandibular joint disorders at the University of Medicine and Dentistry of New Jersey.
For more than 40 years, Cohan has run a private family practice of dentistry in Baltimore while steadfastly contributing his time, wealth, and knowledge to the School of Dentistry and the community.
Cohan is a member of the Maryland State Board of Dental Examiners and serves as a CDCA examiner. He is a past president of the School of Dentistry's Alumni Association Board of Directors and currently sits on the Board of Visitors and the University of Maryland, Baltimore President's Roundtable. Since 2011, he has served as a part-time assistant professor on the Dean's Faculty, spending two days a week teaching residents and undergraduate students in pediatric dentistry and facial pain.
Cohan's professional honors include induction into the Psi Chi National Honor Society in Psychology, Gorgas Dental Scholarship Honor Society, and the Gamma Pi Delta Honor Society in Prosthetic Dentistry. He is a member of the Pierre Fauchard Academy and a fellow in both the American College of Dentists and International College of Dentists.
Cohan has been generous with his time and support throughout the larger community, as well. An active member of his synagogue, he also is a recipient of the Silver Beaver Award (the highest award bestowed upon a volunteer) for his service to the Boy Scouts of America and serves on the Eagle Board of Review. Since 2004, he has served as the Fleet Surgeon for the Baltimore Yacht Club and was named "Yachtsman of the Year" by the Chesapeake Commodores Club. Additionally, he is a commander and qualifications examiner for the U. S. Coast Guard Auxiliary.
A longtime supporter of the school, Cohan was the first alumnus to give a major grant in support of the new School of Dentistry building. He and his wife, Adele, have established, among other initiatives, a scholarship for a senior student who wishes to continue their education in pediatric dentistry. Cohan looks forward to continuing his efforts to help position the school as a world leader in dental education. He feels that "giving back is so important and fulfilling."