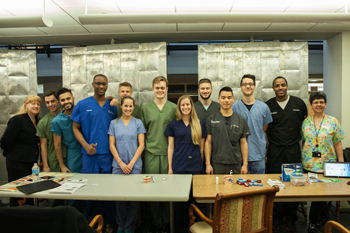 A group of University of Maryland School of Dentistry (UMSOD) students and faculty members reached out to residents in the school's West Baltimore backyard during a health fair on April 11. A team of second-year dental students, led by faculty advisors Vanessa Anseloni, PsyD, PhD, assistant professor in the Department of Neural and Pain Sciences, and Clemencia Vargas, DDS, PhD, associate professor in the Division of Pediatric Dentistry, participated in a community health fair and public forum supported by the University of Maryland, Baltimore (UMB), and hosted by the Urban Business Center.
Students offered comprehensive oral health education as well as dental screenings to members of the West Baltimore community. "I really enjoyed watching people's positive reactions when we informed them of the dental benefits of xylitol gum, cheese and the stimulation of saliva flow," says Jesse Coldman, DDS '17. "Many had no idea that you could choose a gum that promotes dental health, or that cheese can help make teeth harder and more mineralized."
"This is a unique opportunity to learn about cultural competency while reaching out to the underprivileged. Throughout this joint effort, we were also able to refine important professional skills such as teamwork and interprofessionalism, since there were professionals from other fields of health care at the event," says Anseloni, director of the behavioral sciences program at UMSOD.
With the success of the health fair, the UMB Community Outreach Office has already invited UMSOD to join in future outreach events.
Photo by Jesse Goldman, DDS '17