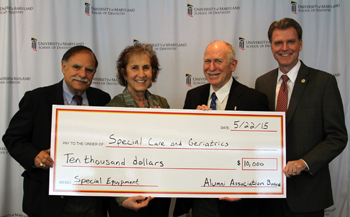 The University of Maryland School of Dentistry (UMSOD) Alumni Association Board of Directors donated $10,000 to the Special Care and Geriatrics Clinic to fund specialized equipment that will streamline patient care. The donation, the first Alumni Association gift to the Special Care and Geriatrics Clinic, supports the acquisition of a handheld X-ray unit.
"This new equipment will make treatment for patients with special needs more efficient, easier and more comfortable for both the patient and the clinician," says Janet Yellowitz, DMD, MPH, associate professor and director of the clinic.
The Special Care and Geriatrics clinic provides comprehensive dental services for two highly underserved populations, those with physical and cognitive disabilities as well as those with medical complexities, including frail elders.
Stephen Friedman, DDS '74, a member of the Alumni Association Endowment Board, said the donation highlights how important it is for alumni to support their alma mater. "Making this gift gives the alumni a mission and helps us feel fulfilled," he says.