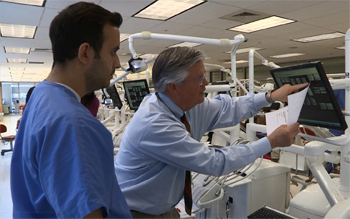 Steps Along the Pathway to Excellence: MiPACS
Join us on the pathway to excellence towards a comprehensive electronic patient record! Enjoy this entertaining and informative video about MiPACS at UMSOD. See below for some additional details:
Integration of MiPACS with axiUm as a comprehensive record is key. There is so much more than just a switch to a different database! Everyone will need to know additional information within axiUm, as well, in order to be effective with MiPACS. For example, billing, coding, and documenting clinical interpretations will be affected.

Everyone who currently uses Romexis in any way needs to participate in the training.

Dental assistants must attend the "train-the-trainer" sessions given on Monday, June 1 (morning or afternoon session). Since clinic is operational, they can split it up (some attend morning, others afternoon) so that clinic is not affected adversely. Dental assistants will also attend the session with their clinic to support training efforts.

If faculty are absolutely unable to schedule one of these hands-on sessions, training will be offered online. Hands-on is preferred, but online is acceptable.