contact
Sandra Ringgold
Academic Program Specialist
Advanced Dental Education Program in Periodontics
‌The University of Maryland School of Dentistry''s Advanced Dental Education program in Periodontics is a three-year program that draws upon basic and translational sciences to train the next generation of Specialists to diagnose and manage periodontal diseases, including dental implantology. The mission of the program is geared at training future leaders in the specialty and community, whether it be in private practice or academia. Our faculty consists of a core of full-time faculty, all Board certified, as well as a critical cadre of highly talented and accomplished Dean's Faculty from the local community.
Scope of Training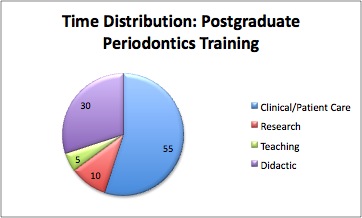 The Advanced Dental Education Program in Periodontics is designed to train residents in all facets of periodontology and to prepare them to become Diplomates of the American Board of Periodontology. The program is based in a core curriculum of traditional periodontics that includes training in all aspects of diagnosis, prognosis, and treatment planning. Residents become proficient in all currently accepted modalities of surgical and non-surgical therapy. The program provides a strong foundation in the scientific basis for specialty practice in periodontics, with particular emphasis on the critical use of current literature and knowledge. Diversity in the training of faculty exposes each resident to various concepts of conventional surgical and non-surgical therapy.
Residents gain experience in managing a periodontal maintenance program. Extensive training is provided in implantology, which includes surgical preparation of the implant site and placement of implants. Clinical experiences also include contemporary bone regeneration techniques for alveolar ridge and maxillary sinus augmentation. Postgraduate students receive in-depth instruction in all areas of conscious sedation and gain experience in the administration of conscious sedation, including clinical exposure to intravenous sedation.
Residents receive experience in treating patients with all categories of periodontal diseases, particularly those patients with advanced stages of the diseases. Clinical training in oral medicine includes periodontal treatment of older adults and medically compromised patients as well as the management of non-plaque related periodontal diseases and disorders. Lectures, seminars, and conferences are held in diagnosis, prognosis, and treatment planning, surgical techniques, periodontal maintenance, implantology, and practice management. Seminars are conducted with other specialties to interrelate all fields of dentistry and medicine; with guest consultants who are experts in their field; and with postdoctoral students in periodontics from other teaching institutions. During assignments at the Baltimore Veterans Affairs Medical Center, residents learn diagnostic methods in laboratory medicine. Residents lecture and provide clinical supervision to pre-doctoral dental students. The preparation and documentation of cases is a requirement for graduation from the program.
Residents also must apply for admission to the Master of Science (M.S.) program in Biomedical Sciences through the Graduate School, University of Maryland, The Founding Campus. Graduate coursework successfully completed as part of the specialty program also fulfills course requirements for the M.S. program. Residents are required to conduct a research project and to complete a paper acceptable for submission to a peer-reviewed journal or thesis in partial fulfillment of the requirements for Certificate in Periodontics. Graduates of the Advanced Dental Education Program in Periodontics receive a Certificate in Periodontics upon successful completion of program requirements. Upon submission and successful defense of the master's thesis, residents are awarded the M.S. degree in Biomedical Sciences by the Graduate School. Completion of the requirements for the M.S. program normally occurs during the Spring Semester of the third-year of the specialty program.
Program Director
Harlan J. Shiau DDS, DMedSc, DIP, PERIO
Director of Postgraduate
Clinical Associate Professor
Division of Periodontics
University of Maryland Dental School
410-706-7152
Related Links