contact
Sandra Ringgold
Academic Program Specialist
Implant Periodontal Prosthodontics Postgraduate Program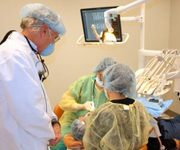 The University of Maryland School of Dentistry, Division of Periodontics, welcomes candidates for the Implant Periodontal Prosthodontics Fellowship program. Individuals who have completed their postgraduate training in Periodontics or Prosthodontics are eligible for this 24-month intensive program.
The goal of the Fellowship is to train individuals with established scholarship, clinical, and technical abilities to encourage them to deliver the highest quality of advanced patient care in Periodontal Prosthodontics and Implant Dentistry," states Dr. Christian Stappert, director of the Implant Periodontal Prosthodontics Program.
For those who have completed their post-graduate training in one specialty, the Fellowship will provide the opportunity to cross-train in Implant Prosthodontics and Periodontics. Periodontal residents gain experience utilizing prosthetics, while prosthodontics residents develop surgical skills, explains Department Chairman Mark Reynolds, DDS, PhD.
The lecture and research curriculum as well as clinical experience provides fellows with a stronger foundation in the interdisciplinary management of patients with more complex treatment needs, with emphasis on multidisciplinary holistic patient diagnosis, surgical and prosthetic treatment planning and execution of advanced implant cases.
Prosthodontics fellows will have the opportunity to team up closely with periodontal fellows to share their expertise and experience with each other.
The University of Maryland welcomes American and International trained applicants. International candidates are required to provide evidence of an equivalent level of training in the dental field of Periodontics or Prosthodontics, which will be evaluated by the application committee.
Fellowship training is guided by a faculty with Board-certified specialists - eager to impart their advanced surgical and restorative knowledge base in the framework of evidence-based literature. Fellowship training will take place in the state-of-the-art Periodontics Postgraduate Clinic that is equipped with the latest diagnostic imaging equipment, surgical microscopes, full surgical suites, sedation capability, and a dedicated support staff.
A competitive fellowship salary is provided for candidates that have completed an American postgraduate specialty training successfully. Tuition will be required for candidates without an American postgraduate specialty degree in Periodontics or Prosthodontics.‌
The application deadline for the 2018-19 academic year is February 15, 2018.
Please use the same application documents required for the Advanced Dental Education Program in Periodontics (ADEPP). Please refer to the ‌information brochure regarding completion of all application documents.
‌For more information or application to University of Maryland Implant Periodontal Prosthodontics Program in the Division of Periodontology, please contact:‌
Ms. Carin Cavaliere
Department of Advanced Oral Sciences and Therapeutics, 4th Floor
University of Maryland School of Dentistry
650 W. Baltimore Street
Baltimore, MD 21201
ccavaliere@umaryland.edu
410-706-7047