Assistant Professor Rania H. Younis, B.D.S., M.D.S., Ph.D.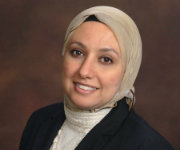 Director, Advanced Program in OMP and Assistant Professor
Dr. Younis specializes in Diagnostic Oral and Maxillofacial Pathology. Most of her cases are related to the oral cavity, jawbones, sinuses and salivary glands, that ranges from reactive, inflammatory and autoimmune conditions to benign and malignant tumors. Dr. Younis interest in basic science research started early in her career investigating several aspects of pathogenesis of head and neck squamous cell carcinoma (HNSCC). Dr. Younis research is interested in investigating head and neck squamous cell carcinoma (HNSCC) response to immunotherapy and the associated toxic side effects. Dr. Younis collaborates with members of the tumor immunology and immunotherapy division in UMGBCCC and department of immunology and microbiology UMSOM.
In this context, Dr. Younis lab was the first to stratify HNSCC into 4 subgroups according to combined analysis of expression of the 2 inflammatory biomarkers: Semaphorin 4D and Programmed death ligand 1 (PD-L1) in tumor cells, that carries significant implications in the world of personalized cancer treatment for HNSCC patients. Her lab was also the first to demonstrate a novel mechanism of tumor immune suppression: upregulation of myeloid suppressor cells and T regulatory cells, through HNSCC production of Semaphorin 4D (Sema4D). That activated TGF-β1 levels in the tumor microenvironment can be mediated downstream of Sema4D/Plexin-B1.
Selected publications:
Roshanak Derakhshandeh, Kyu Lee Han, Haiyan Chen, Tonya Webb, Rania H. Younis. Semaphorin 4D in human head and neck cancer tissue and peripheral blood: A dense fibrotic peri-tumoral stromal phenotype. Oncotarget, January 2018. https://doi.org/10.18632/oncotarget.24277
Younis RH, Han KL, Webb TJ. Human Head and Neck Squamous Cell Carcinoma-Associated Semaphorin 4D Induces Expansion of Myeloid-Derived Suppressor Cells. J Immunol 2016; Feb 1;196(3):1419-1429
Patel H, RH Younis, RA Ord, JR Basile, A Schneider. Differential expression of organic cation transporter OCT-3 in oral premalignant and malignant lesions: potential implications in the antineoplastic effects of metformin. J Oral Pathol Med. 2013 Mar;42(3):250-6
Rania H. Younis, Wei Cao, Ruxian Lin, Ronghui Xia, Zhenqiu Liu, Martin Edelman,Yuping Mei, Li Mao, Hening Ren. CDC25AQ110del: a novel CDC25A isoform, aberrantly expressed in non-small cell lung cancer. PLoS One. 2012; 7(10) e46464.
Vitale-Cross L, Molinolo AA, Martin D, Younis RH, Maruyama T, Patel V, Chen W, Schneider A, Gutkind JS. Metformin prevents development of oral squamous cell carcinomas from carcinogen-induced premalignant lesions. Cancer Prev Res. 2012; Apr;5(4):562-73.
Cao W*, Younis RH*, Li J, Chen H, Xia R, Mao L, Chen W, Ren H. EZH2 promotes malignant phenotypes and is a predictor of oral cancer development in patients with oral leukoplakia. Cancer Prev Res (Phila). 2011; 4(11):1816-24.*equal contribution co-first author.

A Schneider, RH Younis and JS Gutkind. Hypoxia inhibits the mTOR Pathway by Activating an AMPK/REDD1 Signaling Axis in Head and Neck Squamous Cell Carcinoma. Neoplasia. 2008; 10(11): 1295-1302.
Education and training:
Dr. Younis received her B.D.S. and M.D.S. from Faculty of Dentistry and Oral Medicine, Alexandria University, Egypt. After which she practiced general Dentistry for six years. Dr. Younis then had her residency and received her Ph.D. in Oral and Experimental Pathology from the School of Dentistry, University of Maryland Baltimore in 2011. Dr. Younis is a fellow of the American Academy of Oral and Maxillofacial Pathology since 2009 and board certified in oral and maxillofacial pathology since 2011. Dr. Younis was awarded the NIH Ruth L. Kirschstein National Research Service Award (NRSA) for the year 2011-2012 in craniofacial research. Dr. Younis is assistant professor in Department of Oncology and Diagnostic Sciences since 2013 and program director of the OMP in UMSOD program since 2015.