Dr. Simon Akerman, PhD, Biography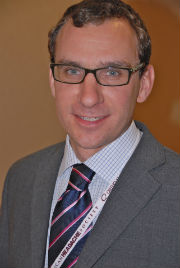 Dr. Simon Akerman received academic training at the University of Birmingham (BSc with honors in Psychology) and Institute of Psychiatry, University of London (MSc in Neuroscience). He completed his PhD studies at the Institute of Neurology, University College London in Neurological Sciences in 2003, investigating the pathophysiological mechanisms related to primary headache disorders, under the supervision of Dr. Peter J. Goadsby. He completed postdoctoral research studies in primary headache disorders at University College London and the University of California, San Francisco. Prior to becoming a full-time academic as faculty in 2011, he was a Senior Scientist at Eli Lilly in their Pain and Migraine research program. He has been the recipient of various awards for his research efforts, including the 2009 AHS Harold G. Wolff lecture award and the 2012 AAN Wolff-Graham Award, and he is a Fellow of the American Headache Society. Dr. Akerman has also served as a regular grant reviewer for various national funding bodies in Europe, including the MRC in the UK.


Research Interests
Primary headaches are ranked as some of the most disabling disorders globally, with migraine ranked the most disabling neurological disorder. These disorders also have a massive socioeconomic impact, costing national economies $billions a year. Therefore, there is an urgent need to better understand these disorders, and also to identify novel and more efficacious targets, as more than 50% of patients gain little relief from currently available therapeutics.
Utilizing many preclinical neurophysiological, behavioral and biochemistry techniques Dr. Akerman's primary research interests continue to focus on the basic neural mechanisms related to primary headache and trigeminal pain disorders. Current research projects are focused on understanding the neurophysiological and molecular mechanisms related to specific symptoms of these pain disorders, and how they are triggered, centered particularly on neuronal mechanisms. This approach uses both experimental triggers of primary headaches, to understand the role of vasoactive neuropeptides, including CGRP and PACAP, and endogenous migraine triggers, to understand how homeostatic changes can act mediate neurophysiological changes that impact headache mechanisms. Other projects are involved in understanding the relevance and impact of migraine co-morbidities, such TMDs, as well as disseminating new target strategies for the treatment of primary headaches.